Hyde Park 'water fight' violence sees police officer stabbed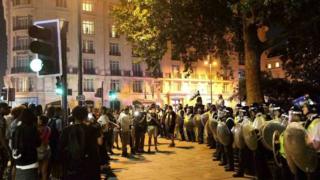 A police officer was stabbed and four others were injured when a water fight in London's Hyde Park turned violent, the Met has said.
One officer suffered a head injury after being hit by a bottle as a crowd, which grew to 4,000 people, "became hostile to police", the force said.
Three other people were stabbed in "horrific scenes" of violence in the park at about 20:40 BST on Tuesday.
Further violence saw two boys stabbed in Burgess Park, south-east London.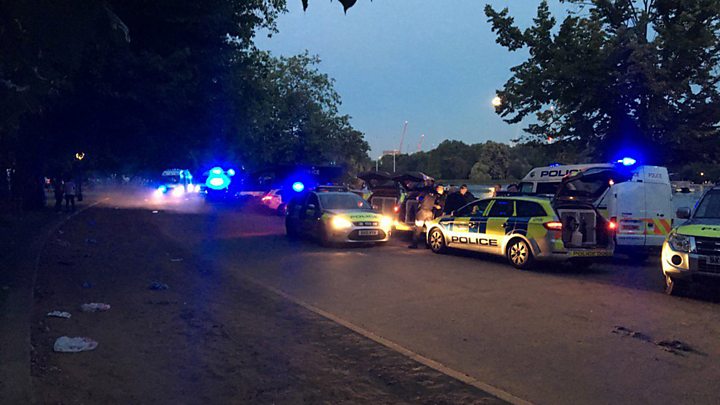 Thousands gathered in Hyde Park in the afternoon for a spontaneous water fight, but police took action when some tried to set up a sound system.
Witness Waqqas Nawaz told BBC Radio London that between 300 and 400 people had gathered and were "throwing bottles at the police".
He said officers "made a chain line across Marble Arch" to restrict people's movement and try to calm the situation.
Police in riot gear arrived at the park from about 15:00 and remained in place for almost 12 hours as a police helicopter was deployed.
The Met said the officer was stabbed in the hand. The injuries to the other officers are not life threatening.
No arrests have been made.
Kerin, from Kennington, said: "Children were throwing bottles, they were throwing stones at police. They have no regard for the law."
The Met said the disturbance, which involved a "hard core" of about 100 people, had nothing to do with the Black Lives Matter movement.
There had been reports on Twitter of chants related to the movement during the disorder.
Elsewhere in London, officers were pelted with missiles as they tried to break up an illegal street party on the Stamford Hill estate in Hackney, north London.
Another water fight in Burgess Park in Camberwell, south-east London, saw the crowd grow to about 1,500 people, police said.
Two 16-year-old boys were stabbed - neither suffered life-threatening injuries but one remains in hospital.
A nearby supermarket was ransacked.
On Monday in Harlesden, north-west London, a 15-year-old girl was taken to hospital with suspected knife wounds to the head after hundreds gathered for an illegal street party in St Mary's Road.
The Met said officers were pelted with missiles as they moved hundreds of people on.
Scotland Yard said it did not believe the incidents were linked but extra officers would be on duty across London for at least four nights. No more officers are allowed to take leave.
Met Commander BJ Harrington said: "The reason we step in to stop unlicensed music events from happening is simple - they are not safe.
"Events like these disrupt and scare neighbours; as we have seen over the past 18 months, these events attract people intent on violence; they attract criminals who deal drugs and rob people; there is no guarantee that the venue is safe and often no one is keeping an eye out to stop trouble."
The disturbance occurred on the hottest day of the year so far.
Mr Harrington added: "Does the weather cause people to be violent? My personal opinion is no, that's not the case.
"Four thousand people assembled in a London park - that's not unusual for one of our central London parks. What is unusual is where people behave criminally, where their behaviour is unacceptable, where they attack officers, they attack each other."
He said officers from the Homicide and Major Crime Command were investigating.
Anyone with information was urged to contact police or Crimestoppers.