Olympics: Fears over London 2012 site factory plans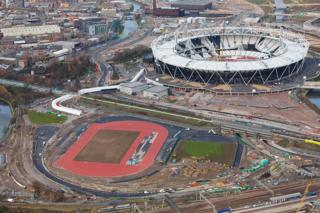 Campaigners say a large concrete factory, planned for a site near the former Olympic Stadium in east London, could damage residents' health.
The site, which was used as a warm-up track during the 2012 games, is currently lying derelict.
Residents and Tower Hamlets and Newham councils have expressed concerns about around the clock traffic, air pollution and noise from the proposed plant.
Developer Fairhurst Ltd did not respond when asked for comment.
A petition opposing the plans on Change.org has attracted hundreds of signatures in four days.
About 24,000 homes are planned for the east London estate which is owned by the London Legacy Development Corporation (LLDC).
A community running track stands between the stadium and the proposed site and a secondary school is also planned to open nearby.
Campaigners say the proposed factories pose "a serious risk that hazardous chemical dust from concrete and asphalt manufacturing activities and associated vehicle fumes will raise air pollution to dangerous levels, resulting in asthma and other respiratory issues for the populations of Newham, Hackney and Tower Hamlets".
Gemma Bell, who lives in nearby Fish Island, wrote on the Change.org website that she would have to leave the area after seven years if the factories went ahead.
She said: "The Olympic Park has brought a new buzz and regeneration to the area... which would all be drastically altered should this go ahead."
Londoner John Slater wrote: "It's absolutely ludicrous to build heavy industry of this sort in a densely populated area, with primary and secondary schools, centres of culture and a jewel in the crown of London - the Olympic Park".
An air quality assessment of the scheme has found little impact from the proposed development, however.
Newham Council said the factory should not operate at night due to noise and expressed concern over possible dust from the plant.
Tower Hamlets Council called for the site to be assessed for its potential impact on the environment and said it was "not appropriate" for the factory to operate 24 hours a day.
It said HGVs travelling to the site would have a "significant impact" on surrounding roads and said the plans did not have enough car parking provision.
The local authority also expressed concern about dust "nuisance" from the plant.
The plans will go before LLDC's planning committee on 24 September.