London City Airport: Ministers back £344m expansion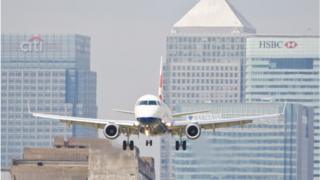 A £344m expansion programme at London City Airport has been given the go-ahead by ministers.
The plans include an extended terminal, a new aircraft taxiway and upgraded public transport links, creating more than 2,000 jobs.
The expansion will raise the number of take-offs and landings at the airport from 70,000 a year to 111,000.
The "terrible" decision has been dubbed "reckless" by Green Party London assembly member Caroline Russell.
There will be a "generous" compensation package for local residents, the government said.
London City Airport estimates the scheme will create 1,600 jobs for staff, together with 500 construction jobs.
It's estimated this will almost double the number of passengers to six million a year by 2023.
Chancellor Philip Hammond said the investment was a "vote of confidence in the resilience of our economy".
Mr Hammond said: "London City Airport's ambitious growth plans will boost international connections, strengthening the City of London's links to destinations across the world, and send a clear signal that Britain is open for business."
Objection lifted
The planning decision was formally approved by Transport Secretary Chris Grayling and Communities and Local Government Secretary Sajid Javid.
Former London mayor Boris Johnson blocked the expansion plans, which had been backed by Newham Council.
One of Sadiq Khan's first decisions as mayor was to lift his predecessor's objection, which has paved the way for the government decision.
Ms Russell said the decision went against Mr Khan's pledge to be the greenest mayor London has ever had.
"From not being able to sleep with the windows open due to aircraft noise at night, to higher levels of asthma in children who live in the area - people in east London are really going to suffer because of this reckless decision," she said.
The support for improvements at City Airport comes amid continued delays over a decision on the expansion of Heathrow or Gatwick.
The London Chamber of Commerce (LCCI) said it was "positive news", but argued a decision about Heathrow should now be made soon.