Pavement 'explodes' in Blackfriars injuring woman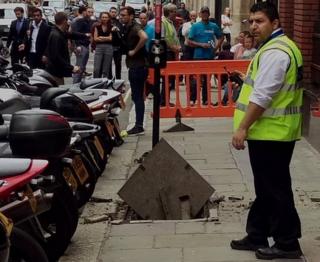 An electrical manhole exploded on the pavement of a busy central London street, injuring a woman.
The blast happened on Tudor Street in Blackfriars shortly after 13:00 BST, with images showing the manhole cover and debris spread across the pavement.
The woman was treated for burns but her injuries were not life-threatening, City of London Police said.
A gas leak was confirmed nearby, Electrical UK Power Networks said.
Witness John Vickers tweeted that he "saw and heard an explosion" which he described as "scary".
Electrical UK Power Networks said no faults were found with any of its equipment but it had been made aware of a gas leak nearby.
Four fire engines attended as well as crews from the London Ambulance Service.
Last year it was revealed there had been 80 incidents of exploding pavements in London since 2010.