TfL adopts Waze crowd-sourced traffic app in London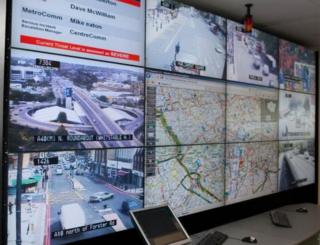 Transport for London (TfL) is partnering with an app producer to bring drivers real-time, crowd-sourced traffic information.
The Waze app is free and used to share information about problems on the road.
As part of the deal, TfL will inform Waze about roadworks or closures for public events and will receive crowd-sourced traffic data in return.
Waze said this information could help emergency responders to select the fastest routes, for example.
Phil Young, from TfL, said: "We can not only ensure London's road users have the information they need to plan their journeys but we can also draw in more data to help us manage London's busy road network."
Waze began in Israel 10 years ago before launching in the UK in 2011. Two years later it was bought by tech giants Google.
It already has partnerships with local governments across North and South America as well as in parts of Europe and Australia but this is its first collaboration in the UK. It hopes that, if successful, other cities across the UK will follow London's lead.
The app provides voice-guided GPS navigation and offers users the chance to report problems via their smartphone.
To do so, users tap the screen and hit the "report" icon and then select what the problem is, for example an accident, traffic light failure or an obstruction in the road.
There is also an inbuilt check to stop people changing the route destination if the vehicle is in motion to discourage users from typing while driving.
It is illegal in the UK to text and drive and the Department for Transport is considering introducing tougher penalties for anyone who breaks this law.
User experience
Christiaan Todd, 48, a utility worker from Kentucky in the US uses Waze on his journeys.
He said: "After opening the app, I put in the location, just like any other GPS and it sets the route and tells you the ETA.
"It keeps you updated with turns and things along the road, like broken down cars.
"If there's a problem on the route it will say, "watch out, vehicle on shoulder ahead".
"The more people that use it, the better the app will be.
"If I want to report something it normally takes about five buttons to send the report. I use a cradle for my phone and the buttons are large."