Alleged serial killer Stephen Port 'filmed meeting victim'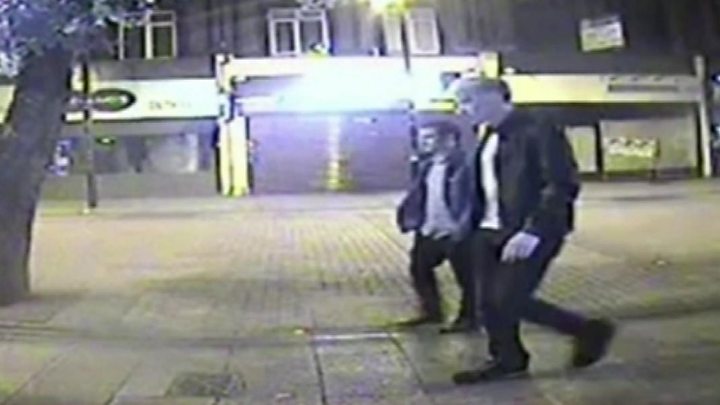 A jury has been shown CCTV footage of an alleged serial killer meeting a man in east London he is accused of murdering hours later.
Stephen Port was captured on film with Jack Taylor outside Barking station on 13 September 2015. The pair then walked together to Mr Port's flat.
Mr Taylor, 25, was found dead the following day near a churchyard.
Mr Port, 41, denies 29 charges including murder, rape, sexual assault and administering drugs.
The Old Bailey was read messages sent between the pair on gay dating app Grindr in which they had arranged to meet at 03:00 BST.
The defendant can be seen in the video walking to the station and joining Mr Taylor, who arrived by taxi.
Jurors were told that Mr Port "blocked" Jack Taylor's Grindr account at 07:20, before deleting his own Grindr account later that day.
Mr Taylor, from Dagenham, was found dead on 14 September near a churchyard in Barking, where the bodies of two other men - Gabriel Kovari and Daniel Whitworth - had been discovered in 2014.
Earlier, the jury heard from a 26-year-old man who said Stephen Port had injected him twice with drugs while they had sex at the defendant's home last year.
The man, who cannot be named for legal reasons, told the court the pair had started having sex in a "normal" way in the bedroom before Mr Port left for the bathroom.
When he returned, the man said he had felt "a sharp pain and very intense sting" after he was injected with a "plastic syringe" he had not seen the defendant carrying.
Shortly afterwards, the accused returned to the bathroom and then injected the man again, the court heard.
"On this occasion I jumped off the bed and told him you can't do that - I'm not comfortable," he said.
The man told the court he "started to get dizzy" but continued having sex.
When Mr Port went to the bathroom for a third time, the man said he decided to leave.
He told the jury: "I asked him outright what he'd given me" and Mr Port replied that it was a lubricant.
The trial continues.