Restaurant offers lonely Londoners free Christmas meal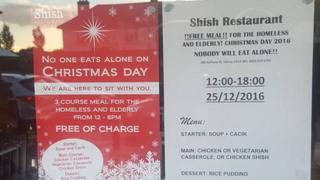 A London restaurant is offering free meals to homeless and elderly people on Christmas Day so "no-one eats alone".
Shish, a Turkish restaurant in Sidcup, said: "No matter what religion, culture or language we speak we should help people."
The offer has been shared by thousands on social media with many praising Shish staff and volunteering to help.
Restaurant manager Irfan Can Genc said he hoped the offer would inspire people to "look after each other".
The restaurant is expecting between 40 and 50 volunteers on Christmas Day to help transport guests, cook and clean after the offer went viral.
Mr Genc said: "Everyone has that little stuff inside in them that brings people together and they just need that spark, and hopefully we've sparked it into a fire."
The free three-course meal is available between 12:00 and 18:00 GMT on Christmas Day.
It includes soup and Cacik as a starter, a choice of chicken casserole, vegetable casserole or a chicken shish as a main dish and rice pudding for dessert.