Winner chosen of competition to light up River Thames bridges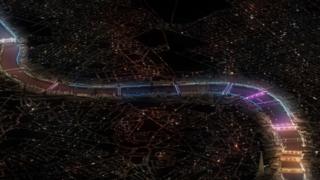 The winner of a design competition to permanently light up 17 of London's bridges along the River Thames has been announced.
American light artist Leo Villareal and British architects Lifschutz Davidson Sandilands won the Illuminated River, an international design competition.
The project will see the pedestrian, road and rail crossings between Albert and Tower Bridge lit.
Their design beat five other shortlisted entries.
More than 100 international groups entered the competition which has raised £10m so far in private funding.
Mr Villareal came to prominence through The Bay Lights project which lights San Francisco Bay Bridge.
He trained as a sculptor and has been working with light and computer code for more than a decade creating major installations, sculptures and public projects. Most recently in London he participated in the Hayward Gallery's Lightshow exhibition.
The artist said: "I'm delighted and humbled by the fact that the jury went with an artistically-driven vision for the Illuminated River.
"The whole team shares a belief in the power of large-scale public culture and art to enrich our cities. We are deeply committed to this project."
Hannah Rothschild, chair of the Illuminated River Foundation, said: "Leo Villareal's proven ability to paint with light matched with Lifschutz Davidson Sandilands' direct experience of building bridges over the Thames was an irresistible and inspirational combination."
The winning team will now start to develop the design concepts with stakeholders before going out to public consultation.