Hard Brexit 'could rip country apart', Sadiq Khan warns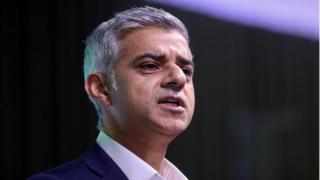 A hard Brexit "could rip Britain apart", London's mayor is to warn.
Prime Minister Theresa May has said the country "cannot possibly" remain within the single market as that would mean "not leaving the EU at all".
But Sadiq Khan believes that access to the single market is "critical" for London, and that leaving the customs union would be a "lose-lose" situation.
The mayor has been fighting for London firms to retain access to a European Union workforce.
About 616,000 people born in Europe but outside the UK currently work in London, equivalent to 12.5% of the capital's workforce.
They include 88,000 in the construction industry, 49,000 in financial and insurance work and 58,000 in professional, scientific and technical activities.
'Future generations'
Mrs May set out her Brexit strategy, including leaving the EU single market, in a speech on Tuesday.
As part of the announcement, she indicated that the UK's relationship with the customs union - under which EU countries do not impose tariffs on each other's goods, while all imposing the same tariff on goods imported from outside the EU - would change.
She said she did not want the country to be "bound" by the shared external tariffs. Instead, the UK would be "striking our own comprehensive trade agreements with other countries".
Speaking to business leaders at the World Economic Forum, London's mayor is due to say a hard Brexit would be bad for the capital.
"Securing privileged access to the single market must be the top priority for the negotiations. It's critical for London. Nothing else will do. It can't be brushed aside - as it was yesterday," he will say at the event in Davos, Switzerland, later.
"A hard-line approach to Brexit may hold the Conservative Party together, but it could rip Britain apart.
"And if we continue on this path - towards a hard Brexit - we risk having to explain to future generations why we knowingly put their economy, their prosperity and their place on the world stage, in such peril."
Mr Khan will say that he is "confident" that London will remain "Europe's leading business hub" after EU withdrawal and that the city will continue to be "the cultural, social and economic capital of Europe".