Pollution warning as London air quality alerts are issued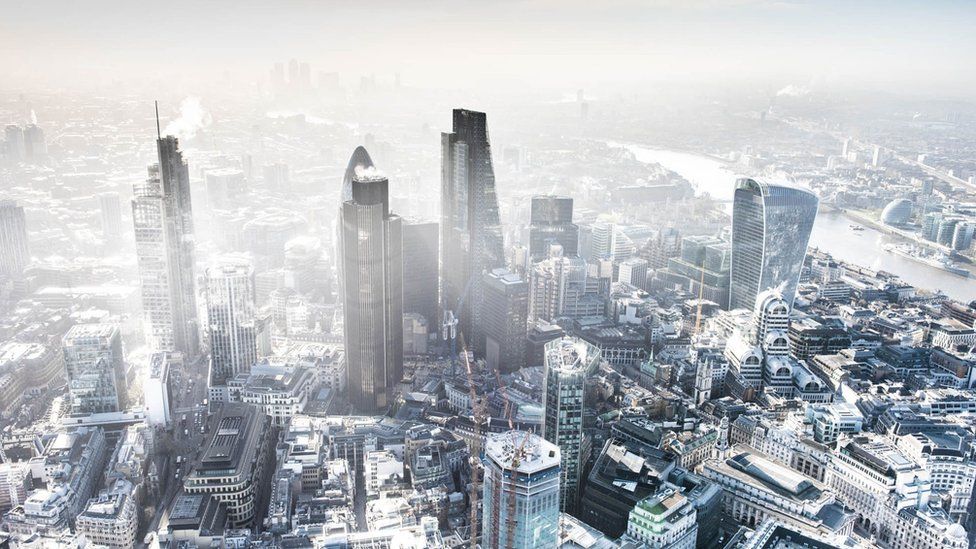 Air quality alerts have been issued by Mayor of London Sadiq Khan - with moderate pollution expected until the weekend across 17 London boroughs.
The problem is expected to peak on Thursday in Westminster, City of London, Hammersmith, Kensington and Chelsea, Kingston and Wandsworth.
Pollution warnings will be displayed at bus stops, Tube stations and roadsides.
London breached its legal limits for toxic air for the entire year in the first five days of 2017.
Notices will be displayed at bus stops, river pier stops, Tube stations and on signs on London's busiest roads.
Alerts for "high" levels of pollution were issued for Westminster, Kensington and Chelsea, Hammersmith & Fulham, Tower Hamlets, Wandsworth, the City, Kingston and Hounslow.
Scientists at Kings College London (KCL) are forecasting pollution levels to reach "high" levels - between seven and nine out of 10 - by this evening with no clearance "at least until the weekend".
Anyone experiencing discomfort such as sore eyes, cough or sore throat should consider reducing activity, particularly outdoors.
Adults and children with lung and heart problems are advised to reduce physical exertion
Those with asthma may find they need to use their inhaler more often
Drivers, cyclists, joggers and pedestrians are advised to seek out less polluted roads to avoid the toxic air
Mr Khan has described the capital's dirty air as a "public health emergency" and has said his office will continue to closely monitor pollution levels over the coming days.
"It's crucial that Londoners who are vulnerable, such as asthma sufferers, are able to take appropriate measures to protect themselves" Mr Khan said.
The Labour mayor called on the government "to urgently play their part" by funding a national diesel scrappage scheme, reforming vehicle excise duty and bringing in a new Clean Air Act.
Light winds coupled with a "cold cap of air sitting over the city" are keeping car emissions close to the ground in the capital, said Andrew Grieve, from KCL.
An area of high pressure bringing pollution from industrial and urban areas of Germany and the near-Continent is also contributing to the problem.
Tom Edwards, BBC London Transport correspondent
It is not uncommon to get pollution episodes in winter. What is unusual is for the Mayor to continue to issue warnings to Londoners.
He talked about better communication about pollution during the election and this is the second time he's done it - although this time it has attracted much more media interest.
The reason for the pollution spike is, as campaigners put it, because we are "stewing in our own emissions".
Sadiq Khan, who says tackling pollution is a priority, has used this to call on the government to do much more.
A 2015 study found air pollution in London was been linked to 9,400 premature deaths a year.
The City Air app, produced by Kings College London and the City of London Corporation, allows Londoners to see pollution levels on their journeys through the city.
The environmental law group Client Earth, which has successfully sued the UK government twice over poor air quality, said it was a "shameful reminder of the severity of London's air pollution" and "shows why the mayor has rightly made tackling it a top priority".
Related Internet Links
The BBC is not responsible for the content of external sites.