Porsche crashes into Lena's Cafe, West Hampstead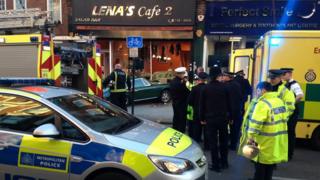 A classic Porsche ploughed through the front window of a cafe, trapping a woman underneath.
The car smashed into Lena's Cafe 2 in West End Lane in West Hampstead, north-west London, shortly before 15:00 GMT.
About 20 firefighters helped release the woman, who was treated for non life-threatening injuries. A second woman was treated for minor injuries. Both were taken to hospital.
The driver stopped at the scene and no arrests have been made.
Phil Rosenberg, Labour councillor for West Hampstead, said he heard a "big bang and screaming" while hosting his surgery next door in West Hampstead Library.
He said: "It's really shocking - when you're sitting in a coffee shop you're not expecting a car coming through the window.
"A few minutes later there would have been children walking past" as local schools closed for the day, he said.
The road has temporarily been closed.