Evicted Belgravia mansion squatters move into new property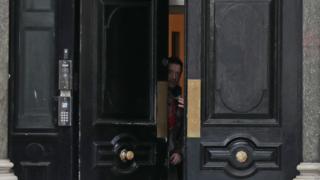 Squatters who were earlier kicked out of a £15m unoccupied mansion London's upmarket Belgravia have taken over another seven-storey property nearby.
The group spent a week at the Eaton Square mansion owned by Russian oligarch Andrey Goncharenko before bailiffs removed them at 08:00 GMT.
Several hours later, they relocated to a property in Grosvenor Gardens, five minutes' walk away by Victoria Station.
Between 20 and 30 people are said to be inside the property.
One squatter, who did not want to be named, said: "It's big - it's like seven floors. It's a lot bigger than the other one."
"I sorted out my room already and I can't find it. It's massive," he added.
A blue plaque on the front of the property says the building was the home of soldier and archaeologist Lt Gen Augustus Henry Lane Fox Pitt-Rivers between 1827 and 1900.
The activist, who said they belonged to the Autonomous Nation of Anarchist Libertarians, said: "We are just going to go out and look for homeless people really.
"We'll just walk around - they'll be in doorways or somewhere. It's a room to stay in isn't it? Even if they don't want to stay permanently."
He added the group expected to be removed but would "just find another place".
"There's empty buildings all over the place, you just don't know about it," he said.
The squatters had occupied the Eaton Square mansion since last Wednesday, but were removed following a court ruling on Tuesday.
They say they are protesting against the number of unoccupied residential properties in London.