Holborn stand-only Tube escalator trial 'cut congestion by 30%'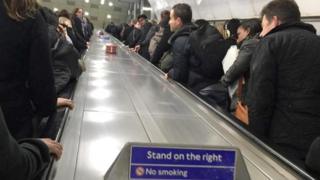 Transport for London's (TfL) standing-only escalators pilot scheme led to a reduction in congestion at Holborn station of 30%, figures show.
The four month trial at Holborn Tube station led to an increase in capacity on the escalators.
But TfL said it had no plans to roll the trial out to other Tube stations.
London Underground convention is for passengers to stand on the right of escalators, allowing others to walk on the left.
The figures released to tech website Gizmodo following a Freedom of Information request showed that over the trial period the two standing-only escalators carried 151 passengers per minute at peak times.
That compared with 115 per minute on other escalators during peak hours.
Mark Evers, director of customer strategy for London Underground, said: "At peak times, station congestion was notably lessened and capacity increased by 30%.
"Although there are no current plans to trial this scheme more widely, initiatives to make customer journeys quicker and more comfortable are constantly being tested across the TfL network."
A TfL spokesman said Holborn had been chosen for the trial because it was one of the busiest stations and had some of the longest escalators on the network.
Previous TfL research found people tend to stand when escalators have a height of over 18.5m, leaving empty space on the left side.