IPCC commissioner stands down over Mark Gatland probe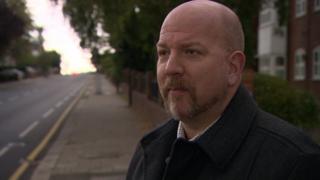 A senior officer with the police watchdog has stood down while her handling of a probe into the actions of an ex-policeman are examined.
Commissioner Jennifer Izekor, of the Independent Police Complaints Commission (IPCC), has been accused of perverting the course of justice.
Ex-Met officer Mark Gatland claims the IPCC suppressed evidence that could have cleared him.
An IPCC investigator has also been suspended.
Last month, Police Scotland opened an investigation into the handling of Mr Gatland's case.
At the time Commissioner Izekor issued a statement in which she said: "I welcome the scrutiny by an independent body into the serious allegations that have been made. I strongly refute (sic) any allegations that I suppressed evidence and will co-operate fully."
'Necessary step'
Mr Gatland, then PC Gatland, was accused by the watchdog of racism for using a Taser on Edric Kennedy-Macfoy, a black off-duty firefighter, in 2011, a month after the London riots.
He denied he was racist and the case against him collapsed in July 2016 when the IPCC offered no proof.
In July, the IPCC acknowledged there had been "procedural shortfalls" in its investigation of Mr Gatland, who alleges 14 police witness statements were withheld from the IPCC inquiry.
IPCC deputy chair Sarah Green said the Met Police began assessing two linked criminal allegations in September 2016 that related to issues arising from a police misconduct hearing that had been halted in July of the same year.
She added: "On 28 February 2017 we became aware that, at the request of the MPS (Metropolitan Police Service), Police Scotland was launching an investigation linked to those allegations.
"Police Scotland has provided us with information about the remit of its investigation. In the circumstances, IPCC Commissioner Jennifer Izekor has stood down from her duties as commissioner for the duration of the investigation. Also, an investigator has been suspended until the investigation is concluded.
"These actions do not indicate concerns about the integrity of the individuals involved but are a necessary step in these circumstances. The IPCC will be fully co-operating with Police Scotland."