Speed bump crackdown on Hyde Park cyclists over limit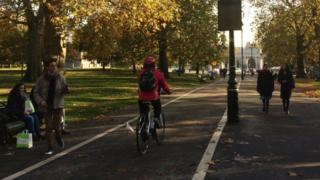 Speed bumps are to be introduced on cycle paths in Hyde Park to discourage riders travelling at up to three times the speed limit.
The granite humps will be installed after riders were recorded travelling up to 32mph. The limit is 10mph.
More than 1,200 cyclists commute through Hyde Park during rush hour, according to The Royal Parks.
London Cycling Campaign called the plan an "excessive response where there is no major concern".
Previous attempts at cyclist speed bumps had been terrible for disabled cyclists and those with slim road tyres, a spokesman said.
"For disabled cyclists who can't lift their back out of the saddle this is going to be brutal," he added.
'Not a race track'
The humps are part of a £215,000 "calming project" which will be installed from next week.
It will also include signage on the pavement and "golden gravel" to highlight shared space on the Broad Walk in Hyde Park.
Royal Parks, which manages the site, said two near misses a week had been witnessed during monitoring of the path in June and July.
Four out of five cyclists were recorded at speeds above 10mph.
Simon Richards, from the Parks' cycling board, said it wanted to encourage cyclists to "adjust their behaviour" to ensure everyone's safety.
"We want cyclists to come in and enjoy the park, but this is not race track," a parks spokesman added.
The Parks' Pathway Code of Conduct states pedestrians have priority over all other users, even in areas designated and marked for other purposes.