St Mary's Hospital upsets bereaved parents with 'fridge' question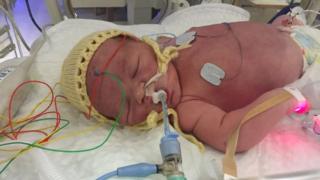 Bereaved parents say they were asked if they wanted to put their dead baby "in a fridge" at the London hospital where Prince George and Princess Charlotte were born.
Ryan Quinn died eight hours after being born in May 2016 at St Mary's Hospital.
His parents say their treatment "spiralled out of control" at the hospital following Ryan's birth.
The Paddington hospital admitted "significant failings" in the way it dealt with the Quinn family.
Ryan died after being starved of oxygen. His parents, John and Emma Quinn, told BBC London Radio that, following his death:
A nurse kept referring to him by a job reference number
Staff tried to transport his body in a box that looked like a "sports bag"
Mr Quinn was led to the chapel of rest through the "back entrance" surrounded by industrial machinery
At the mortuary Mr Quinn was asked "Do you want to put him in the fridge or put him in the chapel?"
Family were prevented from seeing their son's body for 24 hours as "no-one was available" to let them into the chapel of rest
A midwife turned up at the family home 10 days after Ryan's death to weigh him
Mrs Quinn said: "It was just one thing after another; it didn't stop, it continued to spiral out of control.
"It continued to just explode and no-one was able to take hold of the situation."
The NHS hospital - which also has a private Lindo Wing where the royal children were born - revealed after an investigation that the couple were subjected to an "insensitive reception".
A further report into Ryan's death was retracted after the nurse leading the investigation "wasn't allowed to visit the hospital or conduct the interviews she wanted to do", her parents said.
Dr Julian Redhead, medical director at Imperial College Healthcare NHS Trust, said: "We fully accept there were significant failings in our dealings with the Quinn family and the way we managed the original investigation into Ryan's death, for which we are very sorry."