Night Tube drivers announce strike dates in row over jobs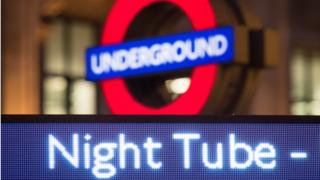 Drivers on London's Night Tube are to strike on 8 and 29 April in a dispute over jobs, the Aslef union said.
Members of the drivers' union voted unanimously in favour of industrial action, on a turnout of 75%.
The union said drivers on the new weekend service, which launched in August, were being blocked from applying for full-time jobs.
A London Underground spokesman said the service had been running in line with agreements reached with the unions.
Unions say Night Tube drivers have been prevented from moving into vacant full-time positions for at least 18 months and do not qualify for overtime pay because they only work 16 hours a week.
Aslef's London Underground organiser, Finn Brennan, accused London Underground of recruiting part-time staff at the start of the Night Tube because "they weren't prepared to find a fair way to roster the work with full-time staff."
'More talks'
The strikes have been called ahead of the legal seven days' notice period for industrial action "so that there is ample opportunity for London Underground management to reach an agreement with us" he added.
The Rail, Maritime and Transport (RMT) union has already revealed its workers on the Night Tube voted 96% in favour of strike action.
London Underground operations director Peter McNaught previously said: "Night Tube services have been running since August last year in line with agreements reached with the unions.
"We have invited the unions to more talks this week and I encourage them to continue discussions with us rather than threaten industrial action."