Croydon baby formula NHS prescriptions will not be cut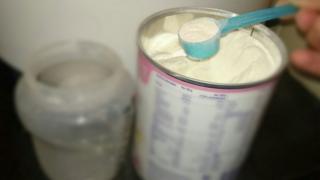 NHS prescriptions of formula feed for babies with milk protein allergies in south London will no longer be cut.
Croydon Clinical Commissioning Group (CCG) had planned to end prescriptions to help reduce budget deficits.
From April, specialist formulas will now be made available for babies under 12 months who are diagnosed with Cow's Milk Protein Allergy.
A CCG spokesperson said the plan would still help "reduce the routine prescribing of specialist baby milk".
Bosses had said the decision to withdraw all prescriptions could save the NHS thousands of pounds per year.
But one parent accused the CCG of "taking milk from a baby", while an online petition calling for a reversal of the decision attracted more than 6,000 signatures.
The CCG spokesperson said baby milks will now only be prescribed "where clinically appropriate, up to the age of 12 months when weaning should already be well under way, according to NICE [National Institute for Health and Care Excellence] guidelines."
They said the plan had been developed after "working closely with local specialists including paediatric dieticians, health visitors and paediatric consultants from Croydon University Hospital".