East Finchley shooting: Family victims of 'vendetta of violence'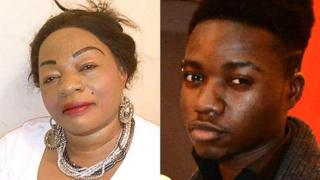 A mother-of-nine and her nephew became innocent victims of a "vendetta of violence" when they were shot dead in their own home, a court has heard
Obina Ezeoke is charged with killing Annie Besala Ekofo, 53, and psychology student Bervil Kalikaka-Ekofo, 21, in East Finchley on 15 September.
Mr Ezeoke shot Mr Ekofo as he slept, then killed his aunt when she came out to investigate, the Old Bailey heard.
The 24-year-old, of no fixed abode, denies two counts of murder.
Mark Heywood QC, prosecuting, said Mr Ezeoke had unleashed "hell" in the Efoko home after breaking in to kill a "teenage" member of the family.
Mr Ezeoke "noiselessly" entered the second floor family home like an "assassin", Mr Heywood said.
"He went there quite deliberately with a gun to attack and kill one of the young men of the family, one of those in their teens, as part of a vendetta of violence," he added.
When Ms Ekofo confronted Mr Ezeoke dressed only in her underwear, "he simply took her life as well", the court heard.
The trial continues.