Mayor of London unveils 'cleaner vehicle checker'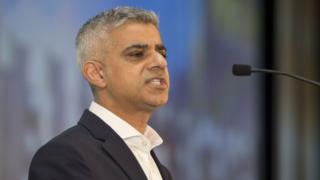 A new online emissions scoring scheme will help motorists avoid buying highly polluting vehicles, the Mayor of London has said.
The website, to be launched in autumn, will allow motorists to check emission scores for nearly all new vehicles.
Launching the initiative, Sadiq Khan said the "cleaner vehicle checker" would give car buyers more control.
However, the Society of Motor Manufacturers and Traders called the proposal "imperfect" and "confusing".
The initiative is intended to restore public confidence in ratings following the "dieselgate" scandal.
Currently, cars only have to pass Euro Standards emissions testing, which is limited to laboratory tests and has been proven to be open to abuse.
Mr Khan said: "My scheme will put an end to the smoke and mirrors that have been employed in official emissions tests.
"By having 'on the road' testing, I believe we will help Londoners make an informed choice and incentivise manufacturers to build cleaner vehicles sooner."
Dr Penny Woods, chief executive of the British Lung Foundation, said the move was "a positive step in the battle to clean up the air we breathe".
Mr Khan announced the scheme with Paris Mayor, Anne Hidalgo, as they met representatives from major car manufacturers to discuss the need for tougher Euro standard testing.
However, Mike Hawes, chief executive of the Society of Motor Manufacturers and Traders, said the new proposal was "imperfect, not legally recognised and will be outdated by September when the new official emissions testing regime comes into force".
"Consumers don't need multiple sources of information based on different testing methods, which will only cause confusion" he added.