Met Commissioner Cressida Dick to receive reduced salary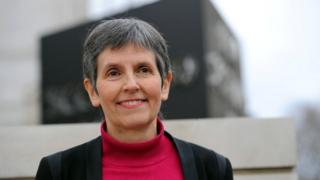 The new commissioner of the Met Police has chosen to be paid more than £40,000 a year less than her predecessor, the mayor of London has revealed.
Cressida Dick was offered £270,648 plus benefits, the same as Sir Bernard Hogan-Howe, but instead will receive a salary of £230,000.
Sadiq Khan said he was "looking forward" to working with her when she formally begins the role on 10 April.
No reason has been given as to why she has decided to take a smaller salary.
Mr Khan said Ms Dick "has already had a long and distinguished career, and brings enormous experience and expertise to lead the Met through some challenging times."
The mayor has previously spoken about budget constraints for the force, which has made £600m of savings since 2010 and needs to make a further £400m in savings in the next few years.
It has also been revealed the new commissioner's contract includes access to a car and driver, but accommodation will not be provided unless it is necessary for security reasons.
Pension regulations mean she will not receive her police pension while she is in the job because she will be receiving a police salary.
Ms Dick, 56, said it was a "great honour and privilege for me to be taking up this role... I will work tirelessly to keep our city safe".
One of her first engagements will be to attend the full police funeral of PC Keith Palmer, who was killed outside the Houses of Parliament.
Ms Dick is rejoining the Met from the Foreign Office having previously spent 31 years with the force.
Her appointment has been criticised by the family of Jean Charles de Menezes, who was wrongly shot dead during an operation she led in 2005.