Date announced for London ultra low emission zone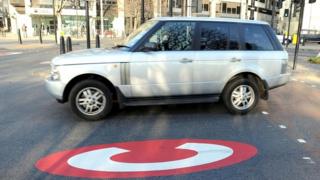 A date for the introduction of the ultra low emission zone in London has been announced by the capital's mayor.
From 8 April 2019, the most polluting cars, vans and motorbikes will have to pay £12.50 to drive through central London, while buses, coaches and HGVs will pay £100.
The number of diesel cars in the city has risen despite tests finding they are damaging to public health.
City Hall hopes the move, which is subject to a consultation, will result in a 50% drop in emissions by 2020.
Diesel-car owners react to new charges
The charge will apply to petrol cars that do not meet Euro 4 standards and diesel vehicles that do not meet Euro 6 standards.
According to City Hall, approximately this will mean petrol cars more than 13 years old in 2019, and diesel cars over four years old in 2019, will be charged.
The Sunday Times recently reported a similar scheme for other UK cities will be unveiled soon.
However, the Department for Environment, Food and Rural Affairs (Defra) have not confirmed when this will take place.
---
London's ultra low emission zone (ULEZ):
Covers the same area as the existing congestion zone and will be in addition to the congestion charge
Applies to petrol vehicles that do not meet Euro 4 standards and diesel vehicles that do not meet Euro 6 standards
Will apply 24 hours a day, 365 days a year
Will not apply to residents living in the zone until April 2022
Black taxis are exempt
Replaces the £10 T-Charge which will apply for older cars entering the capital from October
---
Mayor of London Sadiq Khan told BBC Radio 4's Today programme he was "not willing to stand by and do nothing."
He said the ULEZ would be a "world first" and was a better option than banning diesel cars altogether as he was "not willing to wait" and the "newest diesels are less polluting".
The mayor also said he hoped to extend the area up to the North and South Circular roads for heavy vehicles in 2020 and for light vehicles in 2021.
The plan for a ULEZ was first announced by Mr Khan's predecessor Boris Johnson although he had suggested it would begin in 2020.
Sir David King, the chief scientific adviser under both Tony Blair and Gordon Brown, said the government had been previously "wrong" to encourage people to buy diesel vehicles.
He said many such cars do not meet the emission standards as they are "measured under test conditions whereas what happens on the road turns out to be very different".
A consultation about the ULEZ will run until 25 June.