Underground stations shut daily over staff shortage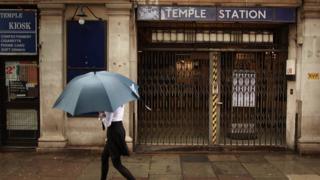 One Tube station on the London Underground had to close every day on average during a year because of staff shortages, BBC London has learnt.
A Freedom of Information request shows the number of station workers fell by 777 - or 13% - between January and December 2016.
The station closed the most times was Temple - 25 times over the year for a total of 57 hours.
Transport for London said at least 650 new staff would be recruited in 2017.
Canary Wharf and Holland Park each had to close 17 times because there were not enough workers to keep customers safe.
In total, there were 360 closures across the entire network in 2016. The largest number of closures came in December, with 149 that month alone.
On Christmas Eve, Queensway was forced to shut for 11 hours - the longest stretch - as workers were moved to nearby Notting Hill Gate.
A total of 66% of closures happened between midnight and 06:00.
The reasons for staff members being unavailable included them being late for work because of "staff taxi-related issues" and staff being moved "to allow another priority station to open or remain open".
'Immensely inconvenient'
Gemma Gowings, 39, who works at a theatre, has to use a walking stick because of osteoarthritis and other walking difficulties.
She suffered particular difficulties when Temple Station - which she uses to get to work - was unexpectedly closed last December.
She said: "As far as I'm concerned the closures were carnage, upsetting and led to time off because of the extra walking I had to do.
"On the first occasion it was closed I had to walk to Blackfriars, which admittedly isn't that far but when you have a medical condition that is significantly worsened by cold weather that extra walk is literally crippling."
She added: "It was immensely inconvenient."
---
Top five most closed stations in 2016
Temple - 25 closures
Canary Wharf - 17 closures
Holland Park - 17 closures
Covent Garden - 13 closures
Goodge Street - 13 closures
---
Brian Woodhead, from London Underground, said: "We roster staff to work at all times when trains are running, however on the occasions that a member of staff is taken ill or is otherwise unavailable, we sometimes have to close stations for short periods of time while we send other staff to the station."
Transport for London announced up to 750 job cuts in 2013 as part of its Fit for the Future strategy, moving "from serving customers behind the ticket window to supporting them in the ticket hall face to face, using new mobile and vending technologies".
A number of trade union strikes followed the decision.
Liberal Democrat Caroline Pidgeon, the chair of the London Assembly Transport Committee, said she was "deeply concerned" by the high number of station closures combined with a "surge in the number of lift closures due to an absence of trained staff".
Tim Bellenger from London Travelwatch said: "We have previously been made aware of these shortcomings and continue to take them up with London Underground as necessary."
In a statement, Transport for London said "We have always been clear that we would review the Fit for the Future - Stations model.
"We have agreed with the trade unions that a further 325 additional new roles will be introduced to the Underground network this year. In total we will be recruiting at least 650 new station staff this year."