Harmondsworth immigration centre: Firms face charges over death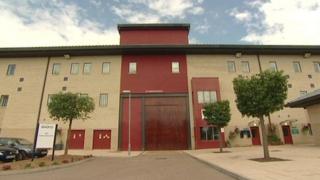 Two companies are facing criminal charges over the death of a man at Europe's largest immigration centre.
Prince Fosu, 31, was found lifeless on the floor of his cell at Harmondsworth Immigration Removal Centre in west London on 30 October 2012.
The Crown Prosecution Service (CPS) said the firms which ran the centre and its health services should be charged for breaching health and safety laws.
An inquest into Mr Fosu's death was previously opened and adjourned.
The Ghanaian national had arrived at the facility six days before his death, after he was arrested for running naked in the street and found to be in the country illegally.
At the time, the immigration centre was run by GEO Group UK Ltd, while Nestor Primecare Services Ltd ran health services under contract to GEO.
They will be charged for breaching Section 3 of the Health and Safety at Work Act 1974.
Under the legislation, an offence is committed when an employer "fails to take reasonable care of the health and safety of someone affected by their undertaking", according to the CPS.
Harmondsworth holds 661 male detainees who are awaiting removal or deportation from the UK.