Towie star's boyfriend wanted over Hackney club acid attack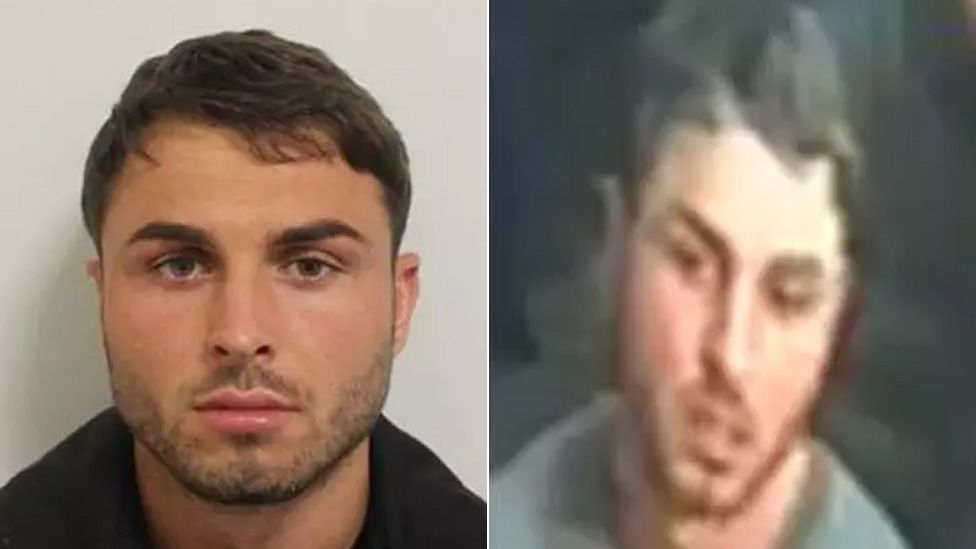 The girlfriend of a man wanted for questioning by police following an acid attack in a London nightclub has appealed for him to turn himself in.
TV personality Ferne McCann urged Arthur Collins, 25, from Hertfordshire, to go to a police station immediately.
Mr Collins is considered a suspect in the attack. His Hertfordshire home was raided by police on Monday night.
Twenty people were injured at the Mangle E8 club in Hackney, east London, at about 01:10 BST on Monday.
A spokeswoman for Ms McCann, who found fame on TV show The Only Way is Essex, said: "Ferne is aware that the police wish to speak to Arthur Collins and the nature of the accusations against him.
"Obviously these are highly shocking and Ferne has co-operated with the police in their inquiries.
"She was not with Arthur on Sunday night, was not at Mangle, and has no direct knowledge of the events that unfolded.
"As much as anybody she wants to know the truth and urges Arthur to co-operate fully with the police and attend a police station immediately."
The Metropolitan Police has warned the public not to approach Mr Collins but to call 999 if they see him.
A witness to the attack said it left two men "unable to see".
Officers believe a dispute between two groups resulted in a noxious substance being sprayed directly at two people and hitting others.
Police do not believe the attack was gang related. No arrests have been made.
Mr Collins may not be the only suspect but is currently considered the main suspect in the incident, the Met said.
How many acid attacks are there?
The charity Acid Survivors Trust International believes incidences of acid attacks are under-reported. Chief executive Jaf Shah says many victims are "fearful" to report attacks to the police.
Since 2010, more than than 1,800 attacks involving corrosive fluid have been reported to the Metropolitan Police.
Police say corrosive fluids - including household chemicals or those taken from car batteries - are being used in murders, robberies and rapes.
It is thought the majority of victims are women and girls.
Katie Piper is one high profile victim. In 2008, an ex-boyfriend arranged for sulphuric acid to be thrown in her face, blinding her in one eye.
She then presented a Channel 4 documentary 'Katie: My Beautiful Face' to increase awareness about burn victims.
Metropolitan Police officers went to Mr Collins' home at White Stubbs Lane, Broxbourne, at 19:50 BST on Monday in order to arrest him.
While there they discovered a cannabis farm and illegal firearms.
A spokesman for Hertfordshire Police said a 54-year-old man and a 52-year-old woman were arrested on suspicion of cultivation of cannabis.
Three other stars of The Only Way Is Essex - Jamie Reed, Jade Lewis and Chloe Meadows - were also reported to be among the hundreds evacuated from the LoveJuice event.
Twelve people were taken to hospital for treatment, while two men aged 24 and 29 have been taken to a specialist burns unit at an Essex hospital.
A 20-year-old witness, who was also injured in the attack, said the men were "two black guys, but their faces were turned white because of the acid".
The woman, who asked not to be named, said she had not see any argument or fight but "in the space of two minutes people went from dancing to the acid being thrown".
Some witnesses have criticised security saying sufficient searches had not been carried out at the event but the club's owners have not commented.
The company behind the event tweeted it was co-operating with the police investigation.
Related Internet Links
The BBC is not responsible for the content of external sites.