Lea Adri-Soejoko allotment death: Police hunt 'violent' man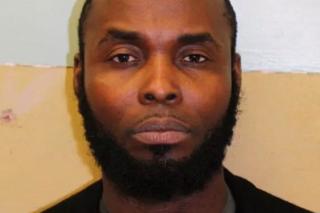 A £20,000 reward has been offered for help finding a "violent" man suspected of murdering a woman on an allotment in London.
The body of Lea Adri-Soejoko, 80, was found in a lock-up store at allotments in Sheaveshill Avenue, Colindale on 28 February.
Police said it was "urgent" they trace Mubarick Duat, 37, and the money was on offer for his arrest and prosecution.
A 40-year-old man has previously been charged with murder.
Det Ch Insp Noel McHugh said it was "crucial" Mr Duat was detained "as soon as possible".
However, he warned "Duat can be violent, so if you see him please do not approach him".
The 37-year-old, described as black, slim and 5ft 8in tall, has also been known as Mubarick Duah, Kwaka Duah and Mubarice Duah, along with other aliases.
Police said he had previously frequented the areas of Hackney, Dalston, Malden, Colindale, Thornton Heath, Wimbledon, Hammersmith and Fulham.
In a statement, Ms Adri-Soejoko's family said they hoped to "find out the truth about the callous death of our kind and loving mum."
"We need your help, the public, to support us now by assisting the investigation and helping to shed light on Mum's final hours," they said.