Ferne McCann: Towie star fights tears after ex-boyfriend's charge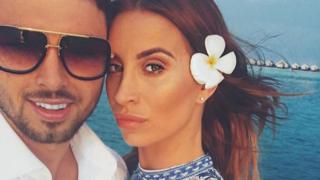 A reality television star said she hoped to be the "best mother she could be" during her first interview since the father of her unborn baby was charged following an acid attack at a London nightclub.
Towie's Ferne McCann appeared on This Morning after her ex-boyfriend Arthur Collins was charged with intent to do grievous bodily harm.
Speaking of the charge, Ms McCann, who is 12 weeks pregnant, held back tears.
"It's been very stressful", she said.The 26-year-old added: "This isn't how I imagined my first pregnancy to be, but this isn't about me, or the situation, my main priority is the baby".
Arthur Collins, 25, from Hertfordshire, is accused of 14 counts of grievous bodily harm with intent and one of throwing corrosive fluid on a person at the Mangle E8 club in Hackney on 17 April.
But despite the "surreal situation", The Only Way is Essex star said her pregnancy had kept her "feeling positive".
She told the ITV show hosts Phillip Schofield and Holly Willoughby: "It had been such a stressful, surreal situation to be in, but I'm actually feeling good, feeling positive, because I'm pregnant.
"The future for me, I'm not going to say it's going to be easy, but I'm excited and I just want to be the best possible mum I can be."
The TV personality had kept out of the public eye since her former boyfriend's arrest.
She added the public had been "so supportive" and had helped her get through the "tough time".
"Everyone's words, everyone has been so supportive, that's what gets me the most, people's kindness, it has been lovely", she said.