Deputy accuses Tower Hamlets mayor of Islamophobia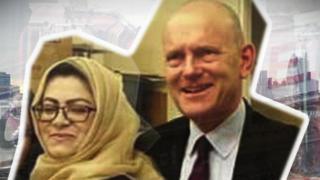 The Mayor of Tower Hamlets has been accused of Islamophobia and sexism by his deputy.
Shiria Khatun said she had been the victim of bullying tactics and resigned in protest.
She said she was "continuously asked why I was wearing the hijab, when I was going to take it off, how long I was going to wear it for".
John Biggs vehemently denied the allegations, saying he was "very respectful of my Muslim constituents".
Ms Khatun has resigned from her role as deputy mayor, the Labour executive committee and cabinet but will still serve as a councillor for the Lansbury ward.
She resigned after claiming she was removed from her role as cabinet member for community affairs with no explanation.
She said the last straw for her was when "he asked what I was hiding under my abaya" - a long loose garment.
"I was shocked, I was stunned. To me it meant I was hiding a bomb or something under my abaya. It was a very serious thing to say, an insensitive thing to say to me," she added.
She also said he described a female colleague as looking like she was from Bollywood at a recent council meeting and that a man would never have taken so long to get ready.
But Mr Biggs said he respected people's faith, although he admitted that he had referenced Bollywood.
"In my mind - I'm not an expert on Bollywood - but in my mind both the actors and the actresses in Bollywood dress pretty splendidly and she was in line with that," he said.
"I shouldn't call myself a bit of a slob in public, but I don't take a lot of time preparing myself. I have the fortune of being a man I suppose in this regard and I do have a reputation for self-deprecating humour and I might have said, although there may be a recording somewhere, that I wouldn't spend that much time getting ready myself because that's simply the way I prepare myself."
The mayor added that he thought the accusations were sour grapes because of the cabinet reshuffle.