London attack: Londoners go out in show of unity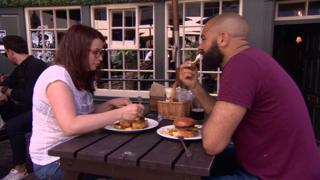 People in London have been visiting the capital's bars and restaurants in a show of "unity and resilience" after last Saturday's terror attack.
The British Red Cross urged people to come together, following the London Bridge and Borough Market attack.
Restaurants are donating money from a chosen dish, while the city's pubs and bars are asking for donations equal to the price of a drink.
All money raised will go to the British Red Cross UK Solidarity Fund.
It helps victims of terror attacks and their families anywhere in the UK.
The fund, set up in the wake of the terror attacks in London and Manchester, raised nearly £700,000 in its first 48 hours.
"It's such a sad loss what happened last week and it's nice - the fact that we're able to support those families," said Gurdi Kaur, who was enjoying a meal at the George Pub opposite Borough Market.
Outside The Anchor, close to Borough Market, Nick Sawyer added: "A week ago it could have been us. [But] the best sign of defiance is coming out and living your lives."
Collections will also be held at the production of Don Juan, starring David Tennant, at Wyndham's Theatre in London's West End.
'London is open'
Eight people were killed on 3 June when three attackers drove a van into pedestrians on London Bridge and launched a knife attack in nearby Borough Market. The attackers were shot dead by officers.
On 22 May, 22 people were killed in the suicide bombing of Manchester Arena after an Ariana Grande concert.
Another six people were killed on 22 March when a lone attacker drove a car into pedestrians on Westminster Bridge and stabbed a police officer.
Southwark Council confirmed earlier that police had lifted the last of the cordons in the area following last Saturday's attack, however the market remains closed.
"We've had builders turn up wanting to fix windows and paint things and it's just absolutely fantastic and heart warming," said Darren Henaghan, Borough Market's managing director.
"Nothing is going to make up for what happened last weekend but this is a really positive thing because Borough Market is a good place."
Mayor of London Sadiq Khan said "London is open".
He added: "Our resilience, unity and defiance of those evil individuals who seek to harm us and destroy our way of life will never change.
'Never cowed'
"I urge all Londoners to do what they can to support this appeal and show the world that we are [a] city that will never be divided or cowed by terrorism."
Comedian Amy Lamé, who was appointed the London "night czar" by Mr Khan last year, said the city's nightlife was "its heart and soul".
"A Saturday Night for London, a week after the terrible attacks at London Bridge, is a chance for people to show the unity and resilience of this great city and the generosity of Londoners in getting out and raising money to help the survivors, the victims and their families," she said.
Faith leaders from across the capital took part in a "sunset walk" to mark a week since the London Bridge attack.
Muslim Aid CEO Jehangir Malik said: "The great message that's standing out here... is people going about their normal business - restaurants, shops and everything that's beautiful about London demonstrates the continuity that it can't affect.
"It can't change our way of life, as it were. We have the resolve to continue, to do what we have to do, living our lives as citizens of London."