London attack: Police patrols near places of worship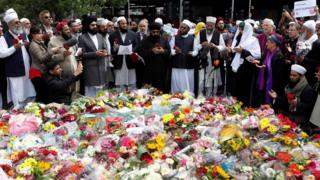 There will be a higher police presence around places of worship over the next few days following the London Bridge terror attack, the Met Police said.
Officers will be patrolling near churches, mosques and synagogues as people celebrate holy days.
It comes as the number of hate crimes reported has increased in recent days.
There have been reports of Muslim women being verbally abused and spat on, said Ash Siddique, secretary of the Al-Madina Mosque in Barking, east London.
According to the Met Police, on average it receives 38 reports of racist incidents a day, whereas in the days immediately after the attack, that increased to 42 and 59.
The force added it was receiving an average of 3.5 Islamophopic reports per day this year, whereas in the two days after the attack it increased to 12 and 18.
London hate crime reports to police following terrorist attack
54
Racist incidents, 20 Islamophobic reports on 6 June
59 Racist incidents, 18 Islamophobic reports on 5 June

42 Racist incidents, 12 Islamophobic reports on 4 June

38 Racist incidents and 3.5 Islamophobic reports on average per day in 2017
Getty Images
Ch Supt Dave Stringer, head of community engagement for the Met, said officers had arrested more than 25 people since Saturday for hate crime offences.
"Over the next few days, communities of different faiths will congregate across London to celebrate their holy days," said Mr Stringer.
"We know many will reflect on the terrible events of last Saturday evening in their readings and prayers but also that some will feel worried and vulnerable about their safety as they gather in their places of worship.
"To help support these communities, we have increased the number of officers on the streets to reassure local people that they are able to go about their daily lives in peace and without fear of harassment or intimidation."
Extra officers have not been drafted in, but those that are already working will go on patrol instead of carrying out other tasks.
Sufia Alam, manager of the Maryam Centre at the East London Mosque, said the organisation has had reports of Muslim women being verbally abused on buses following the attack.
"We urge all our Muslim women attending the workplace and religious places to report any kind of hate crime they may face," she said.
Ash Siddique, secretary of the Al-Madina Mosque in Barking, east London, said there had been a number of incidents in which women coming to the mosque had been attacked, including one who was grabbed around the throat at a bus stop.
"We've had a number of ladies who have been verbally abused and a number of ladies who have been spat on," he said.
"We've had a couple of telephone calls, physical threats - 'we are going to attack you' and that sort of thing."
He described the abuse as "part of the course of being a Muslim in the UK today".
It is one week since the attack which saw eight people killed, and dozens more injured when three men drove into pedestrians on the bridge and then stabbed people in Borough Market.