Croydon tram crash: TfL bosses to 'reject' annual bonuses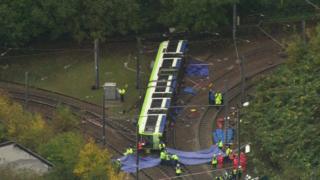 Two Transport for London (TfL) bosses will say they should not receive an annual bonus for the last financial year because of the Croydon tram crash.
Commissioner Mike Brown and managing rirector of surface transport Leon Daniels are to tell TfL's board they should not get a performance award for 2016/17 when it meets on 19 September.
Their plan was revealed as TfL released its annual report on remuneration.
Seven people died when the tram derailed in November 2016.
The report also showed the transport authority has reduced day-to-day operating costs by £153m.
Mr Brown said the costs reduction, which is the first in TfL's history, had been achieved "by reducing management layers and reliance on agency staff and eliminating duplication".