'Stretched' Met Police force asks retired officers to return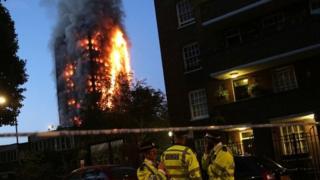 Retired Met Police officers are being asked to consider a return to work in the wake of the Grenfell Tower fire and the London Bridge terror attack.
Deputy commissioner Craig Mackey proposed the plan because he said the force was experiencing "unprecedented demand" on its detective capacity.
In June he said the force was stretched and would need more funding to cope with any further terror attacks.
Scotland Yard says it needs to save £400m by 2021 amid rising costs.
A spokesman said: "The Deputy Commissioner has written to retired/ex detective constables and those on career breaks within the last two years and whose personal circumstances may lend themselves to returning to work.
"We would seek to employ them in ways that will suit both the organisation and themselves.
"There is no pressure being placed upon them but it is clear from the letters we have received that many would be willing to help."
Officers 'broken'
Ken Marsh, chair of the executive committee of the Police Federation that represents constables, sergeants and inspectors, said: "We're on the verge of being broken."
He told the London Assembly police funding and budget meeting that 650 officers had resigned in the past 12 months, which was an "unprecedented" level.
"We haven't got the levels of skills we need when you're asking 200 plus officers to go to Grenfell to help deal with the investigation there," he added.
"So if we don't maintain a balance financially of where we are, how do we keep doing what we've doing? And my colleagues are telling me that they're broken and they've had enough because they can't see how we progress from here."
He added: "With all these incidents, it's the aftermath that we find very hard to deal with."
Mr Marsh said following the attacks in Westminster, London Bridge and Finsbury Park, plus Grenfell, the force had accrued 8,500 days owed to officers. Only 10% of officers in each borough can be on leave at a time which meant that the officers cannot take the days they are legally owed, he said.
"On top of that if another incident happens, we do the same next week, next month - we cancel everyone because when the Home Secretary comes in and says 'I'm putting more officers at A, B and C,' it's not more officers, it's exactly the same whose leave is being cancelled or they're doing double shifts, cancelling their rest days.
"We need to look at that very carefully as that's what causes the endemic issue of sick officers."