Tower Hamlets residents join police for knife searches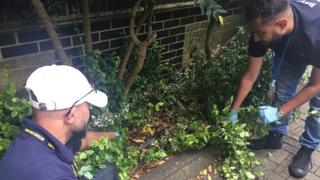 Residents and police officers have joined forces to search for dangerous weapons hidden in public spaces in east London.
Weapons including "Zombie knives", machetes and baseball bats were among the items found during the three "flash sweeps" held across Tower Hamlets.
The scheme involves police knocking on residents' doors and asking if they would like to take part in a search.
The Met said it was another way "to take knives off of the streets."
Large kitchen knives, needles, hammers and poles were also confiscated during the searches. Zombie knives are defined as those used for the purpose of violence.
Members of the public who take part are given a safety briefing, then are paired up with a police officer as they carry out targeted sweeps of different parts of the borough.
The operation is being co-ordinated by police, Tower Hamlets Council and Tower Hamlets Homes housing association.
Det Ch Supt Sue Williams said the searches "are an evolved version on a tried and tested technique that police have used for some time".