South London mother killed toddler by driving dangerously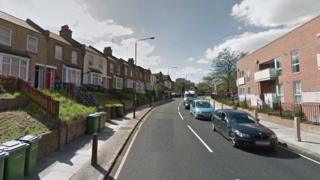 A mother has pleaded guilty to causing the death of her 18-month-old daughter by dangerous driving.
Chidinma Anya, 45, was accused of driving erratically at about 50mph in a 30mph zone when she crashed into a van in 2015.
Her daughter Eugenie Anigbo was fatally injured in the crash on Kings Highway, south London. The van driver Dean Snow was badly hurt.
Anya was warned she could be sent to prison when she is sentenced.
At a hearing at the Old Bailey, Anya, from Thamesmead, south London, pleaded guilty to causing Eugenie's death by dangerous driving and causing serious injury to Mr Snow.
Defence barrister Tarquin McCalla told the court Anya had a "history of seizures", which was a feature of the case.
He also said she was the sole carer of her three remaining children, now aged four, seven and eight.
Judge Michael Topolski QC ordered pre-sentence reports to be prepared before sentencing on 9 November.
He warned Anya: "You do not need me to tell you how serious this is.
"It could not be more serious for you, I recognise that. But you must be prepared on November 9 for a custodial sentence."
Ms Anya who is on unconditional bail, nodded and replied: "I lost my baby."