London Fire Brigade staff shortfall 'near critical' levels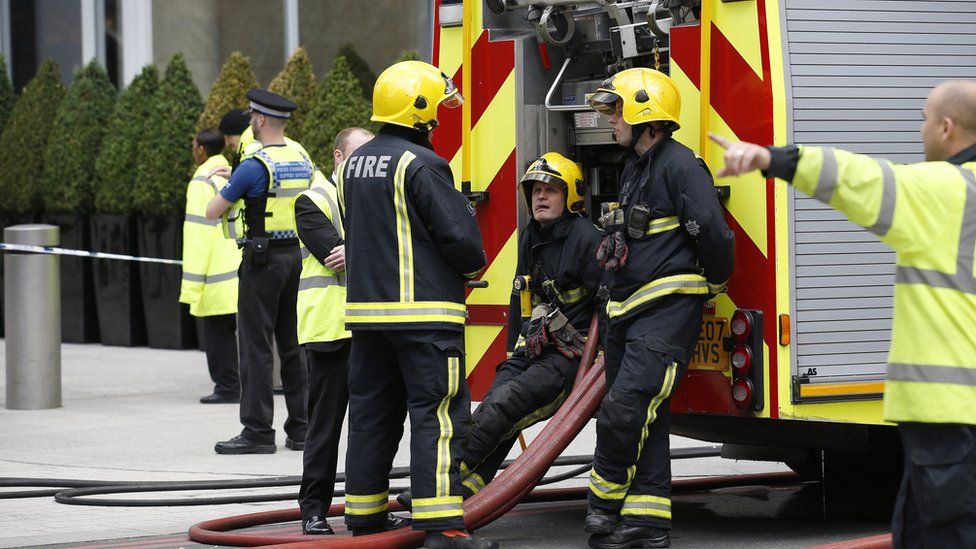 The London Fire Brigade (LFB) is to recruit firefighters from outside of the capital for the first time since 2011.
It comes as LFB said there were currently 167 vacancies across London and that some fire engines had to be taken out of service because of staff shortages
The LFB said operational vacancies were nearing "critical" levels.
It also forecast it would need 400 new firefighters over the next 18 months.
The LFB has previously applied a London residency requirement to the recruitment of firefighters.
Applicants initially had to demonstrate they had lived in London for at least three years, before the residency requirement was reduced to 12 months in January.
But in a report for the London Fire and Emergency Planning Authority (LFEPA), the LFB said: "The level of operational vacancies is becoming critical and the Brigade needs to make significant progress in addressing the shortfall through the new recruitment campaign, scheduled to begin on 2 October.
"The London residency requirement had a significant impact on applicant numbers in the last two years and therefore officers propose that the next campaign should be open to everyone, regardless of where they live."
The report said removing the residency requirement should "increase applications significantly and give a much better chance of meeting the recruitment target in terms of overall numbers".
The LFB said at the start of April there were 122 vacant firefighter positions and 95 firefighters had informed the brigade they were leaving or had left since.
Fiona Twycross, chair of LFEPA, said the new recruitment campaign in October would be opened to people who live outside London to ensure the LFB could "future proof numbers" and "keep the number of firefighters up to maintain the level of service for London".
"The numbers of firefighters is crucial to make sure we keep the service going in London," she said.
Dr Twycross admitted the number of applicants had gone down compared to "recruitment campaigns four or five years ago" and since the London residency requirement had been introduced.
But she said the latest recruitment campaign "was about future numbers not about anything critical yet".
Related Internet Links
The BBC is not responsible for the content of external sites.