London Underground drivers to stage 24-hour strike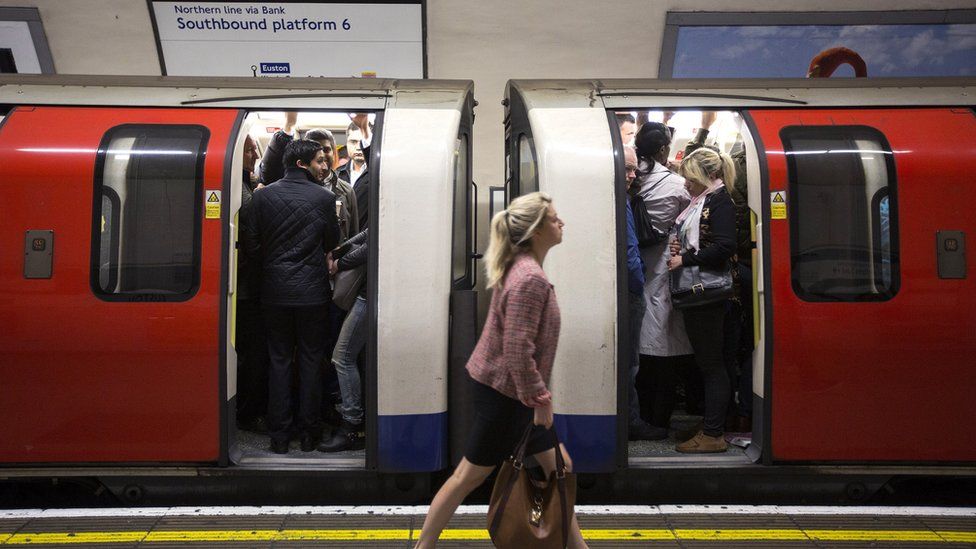 Tube drivers will go on a 24-hour strike across the entire London Underground network in a row over working conditions.
Members of union Aslef will walk out on 5 October, threatening huge disruption for passengers and visitors to the capital.
London Underground (LU) drivers voted by almost 9-1 to strike.
The strike will take place from 00:01 BST on 5 October to 00:01 BST on 6 October.
The action is likely to cause disruption for those attending the World Cup qualifying match between England and Slovenia at Wembley Stadium at 19:45 on 5 October.
The union said LU had failed to deliver on commitments made to improve work-life balance as part of the 2015 pay settlement.
It said: "As part of the settlement of the dispute over the introduction of Night Tube, LU agreed to introduce a mechanism to allow drivers to reduce the number of shifts they work, on a pro-rata basis, and 'new ways of working' to reduce the percentage of weekend shifts worked by July this year.
"They have repeatedly refused to make any detailed proposals to do so.
"Deadlines have repeatedly been missed and promises broken while our detailed proposals to resolve these issues have been ignored.
"As always, we are ready to meet at any time to try to find a solution, but it is long past time that LU management started to act to resolve this long-running dispute."
Nigel Holness, LU's director of network operations, said: "We are committed to ensuring that our employees are able to maintain a good balance between their work and personal lives, and we have been working closely with the unions to explore new ways to achieve this.
"I encourage Aslef to continue working with us constructively rather than moving towards unnecessary strike action."
The 24-hour strike took place on 8 January and ended at 18:00 GMT on Monday, 9 January.
Related Internet Links
The BBC is not responsible for the content of external sites.