Illegally demolished east London homes must be re-built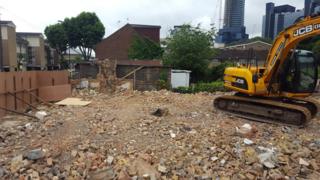 Illegally demolished Victorian-era houses in an east London conservation area must be rebuilt "brick by brick", a council has ordered.
The properties in East Ferry Road, near Canary Wharf, survived heavy bombing during the Blitz but were knocked down without planning permission in 2016.
Tower Hamlets Council said the owners were unable to give a credible explanation for the demolition.
The owners are appealing the council's decision.
Under the current enforcement orders the owners have 18 months to rebuild the properties.
John Biggs, mayor of Tower Hamlets, said: "Many local people were understandably distressed by the demolition of these properties.
"It was my view at the time that the owners should be made to replace these properties like for like, brick by brick."
German bombing raids destroyed most of the other homes in the area during the Second World War.
The council said the demolished buildings were considered to be "of historical interest, value and importance".
The properties' owners have not responded the BBC's request for comment.