Syrian funeral held for British man killed by IS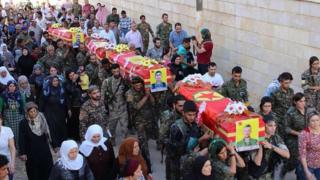 A military ceremony has been held in Syria for a British filmmaker who was killed by so-called Islamic State.
Mehmet Aksoy, 32, from London, was shot by IS fighters when they ambushed a base outside Raqqa on 26 September.
His coffin, adorned with Kurdish colours, was carried on the shoulders of fighters through the town of Derik in northern Syria.
The Kurdish People's Protection Units (YPG) said: "This was a big sacrifice. His camera will never be set down."
A YPG representative said: "He came from thousands of kilometres away to show the truth to the world with his pen, and his camera."
More than 2,000 people also turned out at a community centre in north London to pay tribute.
"The gathering was so big, it stretched out onto the road." said one close friend.
"Mehmet was such a big presence. He had so much energy."
Mr Aksoy, who was of Kurdish descent, studied filmmaking at Goldsmiths University.
Friends said he had a long-held desire to document the fight against IS.
Mr Aksoy travelled to Syria in June, one of dozens of British citizens believed to have joined up with YPG fighters during the conflict.
But although Mr Aksoy wore the YPG uniform, he did not fight with a gun.
He worked as a YPG press officer and began filming and publishing material in English, sharing the stories of Kurdish fighters as they pushed back IS jihadists.
In an emotional address, Mr Aksoy's mother Zeynep, who lives in Luton, told crowds of mourners: "I salute all of you. You have shown me what a wonderful and beautiful son I have."
Mr Aksoy is believed to be the fifth British citizen to have been killed with the YPG.
He was shot by IS jihadists after they stormed a YPG checkpoint some distance away from where the fighting in Raqqa was taking place.
A British YPG fighter, Jac Holmes, told the BBC: "This is war, people are dying every day. You don't come here without accepting the risks.
"But in the YPG everyone who takes part in this fight believes what they are doing is right.
"Daesh [IS] carried out a wave of sneak attacks behind the front lines," he explained.
Mr Holmes had arrived on the scene the day Mr Aksoy died, shortly after one such surprise attack had taken place.
He told the BBC IS fighters had been employing the tactic of disguising themselves in civilian clothes and SDF uniforms (the Kurdish-led forces fighting against IS).
"Mehmet's death was a great loss, but we will continue to fight." Mr Holmes said.
Mourners in London were addressed live from Syria over Skype by YPG representative Nuri Mahmoud, who said: "We give our condolences to his mother, his friends and family, and to the people of Britain.
"We are digging the graves of Daesh in the ground where they declared their caliphate. We owe this resistance to our martyrs, we will fight for victory until the last drop of our blood."
Later this week Mehmet Aksoy's body will be taken over the border into Iraq and will then be brought back to the UK.
The British Foreign Office has warned strongly against travelling to Syria.
Update 8 December 2018: This article was amended to remove a personal detail.