London air has dangerous levels of toxic particles, research shows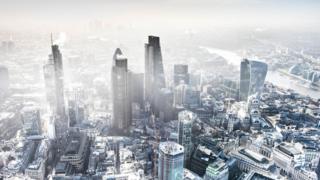 Londoners are breathing in air that exceeds global guidelines for one of the most dangerous toxic particles, it has been revealed.
New figures released by London Mayor Sadiq Khan show every area in the capital exceeds World Health Organisation (WHO) limits for PM2.5.
PM2.5 are toxic air particles which can increase the likelihood of respiratory and cardiovascular diseases.
Mr Khan said it was "sickening" that not one London area met WHO standards.
"This research is another damning indictment of the toxic air that all Londoners are forced to breathe every day", he said.
The findings of the London Atmospheric Emissions Inventory show nearly 95% of the capital's population live in areas that exceed the guidelines by 50% or more.
Children exposed to toxic pollutants are more likely to develop reduced lung function and develop asthma in later life, while PM2.5 is also known to result in 29,000 premature deaths in the UK every year, the Committee on the Medical Effects of Air Pollutants said.
Around half of PM2.5 in London is from sources outside the city, however, the main sources of PM2.5 emissions in the capital are from tyre and brake wear on road vehicles, construction and wood burning.
The mayor last week wrote to the Environment Secretary Michael Gove asking for greater powers to tackle air pollution not caused by traffic - including the introduction of a network of "zero-emission zones" where the burning of wood or coal is prohibited.
"Reducing these emissions and achieving WHO guidelines will require coordinated action by governments and cities around the world and a shift towards walking, cycling and using public transport, as well as new technologies like electric cars", Mr Khan said.
On 23 October, the Mayor's new T-Charge will come into force to remove older, more polluting vehicles from central London.
"I am doing everything in my powers to significantly reduce NOx emissions by introducing the T-Charge to drive down the number of dirty vehicles polluting our roads and our lungs and implementing an Ultra Low Emission Zone with even tighter standards", he said.
"I also urge the government to devolve powers to me so I can get on with tackling the dangerous toxic air particles - known as PM2.5 - that we know come from construction sites and wood burning stoves.
"It's measures like these that we need to get on with now to protect our children and our children's children."