Rise in victims reporting sexual offences to the Met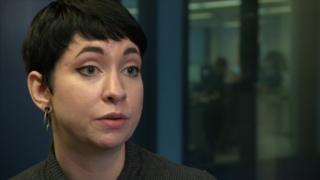 The number of sexual assault victims recorded by the Met Police has gone up by more than 7,000 in the last four years, new figures show.
The number of women reporting rape rose by 80%, from 3,000 in 2012 to 5,400 in 2016, with the figures for men almost tripling from 211 to 616.
The Met said its processes for handling victims of rape had improved.
The Solace Women's Aid charity said more needed to be done to get cases to court.
The figures were released after a Freedom of Information request by the BBC.
Mary Mason, chief executive of Solace Women's Aid, which works with victims of sexual crimes, said while there had been an increase in reporting, she felt there had not been the same rise in the number of prosecutions.
'Deeply troubling'
Sometimes, the credibility of the victim in sexual assault cases was used as a reason not to prosecute a case by the police and Crown Prosecution Service (CPS), she said.
"That's something I find deeply, deeply troubling. Because somebody is vulnerable, do we allow them to be raped with impunity? That's not acceptable."
But she said there was more consideration being given to the lasting effects of sexual violence.
"I think we're finally beginning to see an understanding this has a life-long impact," she said.
"We worked with a woman who was 102, and she had been sexually abused in childhood, and had never talked about that with anybody.
"She contacted us, saying she wanted to write it down, so that she was able to leave this world, to die having passed that on. Afterwards, she said she felt a great sense of relief."
In a statement, the Met said it was "encouraged by the increase in the number of rape allegations... as we believe it reflects a greater confidence amongst victims that they will be listened to."
It said the force had "increased its investigative capability to address this rise" but "remains committed to continually improving our service to the public in this area".
The CPS said more defendants had been prosecuted and convicted for sexual offences than ever before.
"Over the last decade, convictions for rape and other sexual offences have increased by 48 per cent and 79 per cent, respectively," a spokesperson said.
Jenn Selby, a rape survivor and campaigner, said she was attacked by a man she knew well but her case was dropped because the CPS did not think there was a reasonable chance of prosecution.
"It was a really difficult decision for me to come forward about it, because it involved a lot of people that I knew, and a lot of friends," she said.
"I ended being on this absolute emotional rollercoaster of a court system."
'Not good enough'
She said it took police a year to charge the man, and her court case was delayed twice before it was dropped, three days before the trial. Her two appeals were both refused.
"The first delay was absolutely devastating. I had organised all of my time off, and was determined to come back and just get on with my job and get on with my life," said Ms Selby, who now works with Solace.
She said the rejection of her appeals by email were very impersonal. "That's how they cancel your appeals and it's just not good enough," she said.
Referring to Ms Selby's case, a CPS spokesman said: "The CPS authorised a charge of rape in May 2014 having carefully considered police and expert evidence.
"There were no delays on the part of the CPS but the original scheduled trial was adjourned by the court to allow the defence to obtain an expert report."
He said the decision to drop the case was made because there was no longer a realistic prospect of conviction, and that Ms Selby was offered a meeting to discuss the decision in person.
Help for anyone affected by these issues can be found at BBC Advice.
Additional reporting by Rebecca Cafe