Illegal tongue splitting procedures exposed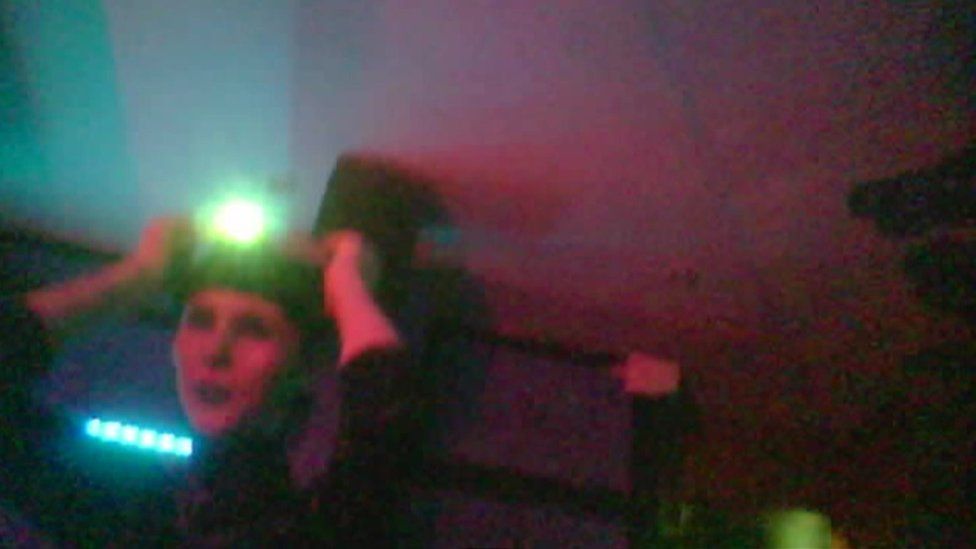 Body modification artists have been exposed carrying out illegal and potentially dangerous tongue splitting procedures.
Patients undergo the cosmetic surgery to achieve a lizard-like forked tongue.
Two backstreet practitioners were filmed by BBC London preparing to illegally inject anaesthetic into undercover reporters.
The exposé also highlighted a grey area over the procedure's legality, with calls for the government to legislate.
BBC London was tipped off that numerous body modification artists were unlawfully injecting anaesthetics as part of tongue splitting operations.
Roni X, from Poland, who operated out of Divine Canvas in Islington, told an undercover researcher she would use the drug Articaine to control the pain.
Only a registered medical professional such as a doctor or dentist can supply this drug and authorise the dose.
Roni X explained: "You might feel a pinch, but it's nothing crazy and the stitches will take 15, 20 minutes to do all around.
"The entire procedure lasts up to half an hour."
Samppa von Cyborg, from Finland, also offered his services for £500. He is one of the world's best known body modification artists and claims to have carried out 1,000 tongue splits.
He admitted: "Cutting the tongue in half and putting stitches, there definitely will be some nerve damage."
Of the Articaine he intended to administer, he said: "You just feel really shaky and really wired, that's the only side effect you have."
Neither of the surgeons are medical professionals.
Mr von Cyborg's wife Aneta, who is his assistant, said: "We don't allow videos. Definitely no needle or syringe [in a photograph] because that's the illegal part.
"The needle is so small that you don't feel when it goes in."
The undercover reporters waited until the injections were actually being prepared before pulling out of the operation.
Stephan van Vuuren, principal dentist at Islington Green Dental Practice, said: "The effects of a local anaesthetic could be quite hazardous to a patient.
"If you haven't taken a proper medical history and the patient has a heart condition, the anaesthetic... could actually affect their heart rhythm."
The BBC spoke to two dental patients who suffered severe side effects from local anaesthetics, including panic attack symptoms and passing out.
It can also cause potentially fatal anaphylactic shock.
Dr Anna-Maria Rollin MBE, who sits on the council of the The Royal College of Anaesthetists, said: "Frankly I was horrified at the thought that in this unregulated environment people are doing this without training and in circumstances which don't look either clinical or sterile."
She was also worried about "injecting unknown quantities of unknown drugs into people, without any evidence of having the equipment available to deal with complications might they arise".
Meanwhile, the BBC's investigation highlighted a grey area in the regulation of body modification, which may mean the procedure itself is unlawful.
Roni X appeared to be acting under licensing laws for tattoo and piercing shops, with the tongue splitting licensed as a special treatment, namely piercing.
Dr Samantha Pegg, a lecturer in law at Nottingham Trent University and expert on the legality of body modification procedures, said the government urgently needed to legislate such procedures.
She explained: "Extreme body modification is not covered by existing law; we don't know whether an individual's consent is enough to make it legal. The practitioner could be committing a criminal offence.
"If it was properly regulated it would help in terms of health and safety.
"Piercing and tattooing are both heavily regulated in terms of hygiene, disposal of needles and so on, but there is nothing in place for these much more extreme procedures."
A Department of Health spokeswoman said: "We are committed to supporting people to make informed and safe choices about any procedure they are considering and make sure that the person they choose is appropriately qualified, registered and insured."
The government is not planning any changes to legislation.
Contacted by the BBC, Samppa Von Cyborg denied injecting anyone, claiming he merely used an anaesthetic gel and used a doctor friend to inject customers.
Roni X did not respond to the BBC's letters, while Divine Canvas said Roni X did not work for them and never has.
The full investigation will be shown on BBC Inside Out London on BBC One on Monday 9 October at 19:30 BST, and will be available for 30 days on the BBC iPlayer.
Related Internet Links
The BBC is not responsible for the content of external sites.