London Tube bomb plotter's helper sacked from council job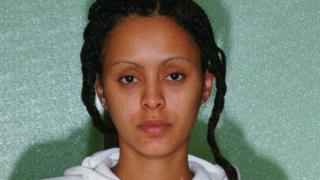 A council worker who helped a would-be bomber escape has been sacked after her conviction came to light.
Mulumebet Girma was jailed for helping failed suicide bomber Hussain Osman flee after his attempt to kill Tube passengers on 21 July, 2005.
She was employed as a trainee assistant at Southwark Council in 2013 shortly after being released from jail.
In a statement Ms Girma said she had told her employers she was jailed and her career had now been "destroyed".
The 33-year-old, who graduated in pharmaceutical and chemical sciences from the University of Brighton in 2005, even appeared on the cover of a council magazine to demonstrate the success of an apprenticeship scheme, according to The Sun.
The council said she failed to tell her employer about her criminal record and has since been sacked.
'Robust review'
Eleanor Kelly, chief executive of Southwark Council, said: "As soon as her background came to light we took immediate action and terminated her employment.
"She did not disclose her full offence to the council. During her employment this individual never had access to police watch list data."
She said the council had "fully reviewed her activity while she was employed at the council... and no wrongdoing was uncovered".
"We have also undertaken a robust review of our processes and procedures in light of this incident."
Ms Girma, also known as Mulu, was 24 in 2008 when she was jailed for 10 years. That was reduced to five after an appeal.
She was found guilty of assisting an offender by helping Osman escape to Brighton and failing to disclose information about Osman's involvement in the attempted attacks.
She was sentenced alongside her sister Yeshi Girma, who is Osman's wife.
Her solicitors said in the statement that Ms Girma's conviction "stemmed entirely from a familial relationship" and she "condemns all terrorism".
"She disclosed her convictions in her application to Southwark Council, both in writing and orally, and subsequently had a successful career which has now been destroyed for no purpose," the statement said.
Osman, along with Muktar Said Ibrahim, Yassin Omar, and Ramzi Mohammed, tried to detonate rucksacks laden with explosives on three Underground trains - at Shepherd's Bush station, Oval station and Warren Street station, and a bus in Hackney Road. The bombs failed to go off.
The attempted attacks came two weeks after four suicide bombers struck in central London, killing 52 people and injuring more than 770.
They were jailed for life in July 2007 after being convicted at London's Woolwich Crown Court of conspiracy to murder.