London priest 'sex abuse victim' had 'nightmares'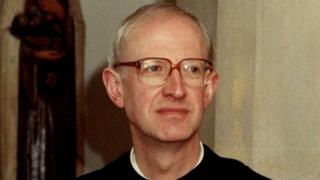 An alleged victim of a senior Roman Catholic priest has told a court he was haunted by "nightmares" of the sex abuse he suffered as a boy.
Laurence Soper, 74, the abbot of Ealing Abbey from 1991-2000, was headmaster and senior priest at St Benedict's School in Ealing, west London.
He is on trial at the Old Bailey where he denies 19 charges of child sex abuse against 10 boys between 1970 and 1980.
The boys allege they were subjected to sexual touching and beaten with a cane.
The witness told the court he would get "flashbacks" and "nightmares" about Mr Soper.
"It's a nightmare that is waking me up at the moment. I wake up absolutely soaking in sweat and the bed is wet," he said.
The witness told the court why he never told anyone or sought medical help after Mr Soper allegedly abused him.
He said: "I could not do it. A couple of times he really hurt me but I couldn't do it. I was too embarrassed.
"It was the way he manipulated you so you could not tell anyone and it got to the stage where you were damned if you did and you were damned if you didn't."
The man also told the jury Mr Soper would "stalk" the playground and order youngsters to come and see him after dinner.
Asked how many boys he would beat on a "typical day", he said: "We don't know. I would say he was very into that sort of thing."
Extradition warrant
Mr Soper denies all the charges against him, including indecent assault, indecency with a child and buggery.
He quit as an abbot in 2000 and moved to Rome, during which time alleged victims started to come forward, the court heard.
The court also heard Mr Soper - who is no longer a monk but remains a priest - spent six years living in Kosovo, with a European Arrest Warrant issued for his extradition
In court he was addressed as Andrew Charles Kingston Soper - with Laurence being the name he took when he was ordained as a priest.
The trial continues.