Arthur Collins trial: Acid victims 'rubbed ice on skin'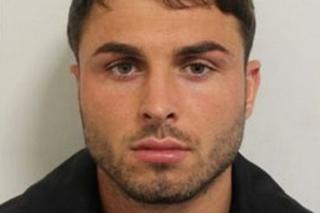 Clubbers shielded their faces and rubbed ice on blistered skin after acid was thrown over a packed dance floor, a court has heard.
Victim Nadia Pascal described painful "streaks" running down the back of her legs after caustic liquid was hurled.
Arthur Collins, 25, and Andre Phoenix, 21, are accused of throwing the acid at the Mangle E8 nightclub in Dalston, east London, on April 17
Wood Green Crown Court has heard both men deny all the charges they face.
Mr Collins, the ex-boyfriend of The Only Way Is Essex star Ferne McCann, and co-defendant Mr Phoenix face five counts of grievous bodily harm with intent and 11 counts of actual bodily harm.
'Stinging and burning'
The court heard Daniel Mills was sprayed in the face with acid while at the bar.
Speaking from behind a screen, he told the jury: "I sort of heard something out of character that made me turn, I think it was people shouting.
"As I turned around, the substance hit me in the face. It started stinging and burning," he said.
Both Mr Mills and Ms Pascal described rubbing ice on their injuries, with Ms Pascal adding that people covered their faces and ran for exits to escape the strong fumes.
Jay Lanning told the court he saw a potential fight brewing in the club when a man raised his arm back as if to throw a punch and "white smoke" filled the air.
He said he was then hit by what he thought was "ice-cold water" but after 30 seconds felt a "burning sensation".
Megan Usher, who also suffered burns, told the jury her arm turned "kind of bubbly" and "red, very red" when she was hit by the substance.
The trial continues.