'Not practical' for Met Police to investigate all crime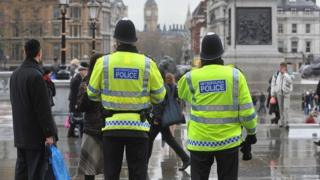 Some crimes such as shoplifting and criminal damage may not be investigated in London because it is "not practical" to do so, Scotland Yard has said.
The force said it was facing "many challenges" while having to save £400m by 2020, so work had to be prioritised.
New guidelines have been introduced to allow officers to assess what is "proportionate" to investigate.
Deputy Assistant Commissioner Mark Simmons said officers must be "focused on serious crime".
But the Met Police Federation said it was important officers investigated offences at every level "like we always used to".
'Not practical'
Mr Simmons said the new Crime Assessment Policy was "empowering our officers" to judge whether it was proportionate to investigate some offences such as shoplifting, car crime and criminal damage.
"With the pressure on our resources it is not practical for our officers to spend a considerable amount of time looking into something where, for example, the value of damage or the item stolen is under £50, or the victim is not willing to support a prosecution," he said
"We are not talking about things like homicide, kidnap, sexual offences, hate crime or domestic violence, but the lower level, higher volume offences."
In the last four years, the UK's biggest police force has had to make £600m of savings and says it is due to lose an extra £400m by 2020.
Meanwhile, the number of recorded offences has increased, with violent crime rising by 63% since May 2013 and gun crime increasing by 54% in the past two years.
"We need our officers to be focused on serious crime and cases where there is a realistic chance that we will be able to solve it," Mr Simmons added.
'Huge cuts'
Ken Marsh, chairman of the Met Police Federation, said cuts and the threat of terrorism meant other areas of policing were suffering.
"You can learn a lot from small crimes and if you stop [investigating] that you break off a large part of communication with the public," he said.
London's deputy mayor for policing and crime, Sophie Linden, said cuts to police funding had "forced the Met to make £1bn of cuts between 2010 and 2021".
"These huge cuts are making it increasingly difficult for the Met to do their job and keep Londoners safe," she said.
"The Met will continue to have to take extremely difficult decisions unless the government does the right thing by London in the budget and gives our police service the funding they need to keep us safe."
During House of Common proceedings, police minister Nick Hurd was asked by his Labour counterpart Louise Haigh how he would feel if his house was burgled and it was not investigated.
He said he would be "angry and frustrated" and added the government was committed to giving the police "all the resources they need" while "challenging" them to be more efficient and effective.