Met Commissioner denies 'no pursuit' policy on moped crime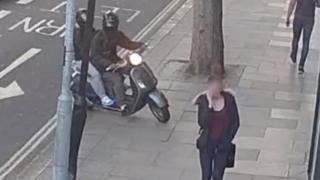 Met Police Commissioner Cressida Dick has denied her force has a "no pursuit" policy when tackling moped thieves.
But she said officers who chased suspects needed greater legal protection in the event of a crash.
The commissioner said it was "too easy" to steal mopeds and scooters, though the number of thefts in London was on the decline.
The Met was starting to "get on top" of the problem, she told the London Assembly's Police and Crime Committee.
She told the committee pursuits were "highly regulated" and it was right that officers were held to account but she said officers felt they should be able to pursue someone without "fear of prosecution".
She said: "What we would like to see is the Home Office looking at whether there is some way in which the fact that these are highly skilled people, highly experienced people in a vehicle designed to do what they're asking it to, could be taken into account in these processes."
The Home Office is reviewing the law around police pursuits after forces raised concerns about the potential risk of officers facing charges, particularly when following moped criminals.
Ms Dick told the committee that in the past three months the number of scooters stolen in London had fallen "significantly" by just under 15%, compared to the previous three.
London's Deputy Mayor, Sophie Linden, said moped crime would continue to be "incredibly challenging" but the "early signs" were the enforcement action taken by officers was working.
However, Ms Linden said progress with the motorcycle industry in making scooters harder to steal had been "frankly, disappointing" and "not quick enough".
The Met Commissioner also defended Scotland Yard's policy to investigate minor crimes only where there is a realistic prospect of catching the perpetrator.
Police figures revealed at the meeting showed the number of murders in London rose from 106 in 2015-16 to 133 in 2016-17. Youth murder rose from 19 to 35 over the same period.