Half of London police station counters to close to save £8m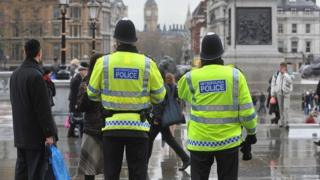 More than half of London's police front counters will close as part of plans to save £8m, Sadiq Khan has confirmed.
Thirty-eight of the 73 police stations with front desks will shut with nearly all boroughs left with only one counter that will open 24 hours a day.
The mayor said the move would protect frontline officer numbers and save the equivalent cost of 140 constables at a time of "drastic government cuts".
The Home Office has said London has more officers "than anywhere else".
In the last four years, the Met has had to make £600m of savings and says it is due to lose an extra £400m by 2020.
According to figures from the force, the number of of crimes reported at police front counters has fallen significantly.
In 2016, 8% of crimes were reported at a front counter compared to 22% in 2006.
Following the closures, which are due to take place before the end of the year, Westminster will be the only borough that has two police front desks.
Areas which will lose two counters include Lewisham, Ealing and Bromley with some buildings to be sold off to raise funds.
A temporary daytime front desk will be created near Grenfell Tower while investigations into the fire continue "to respond to the needs of that community", City Hall said.
Sadiq Khan said he was "confident that these final plans maintain the best possible service for Londoners, and will provide the access to the police".
"The drastic nature of Government cuts to policing budgets has left us with no choice but to take drastic action," he added.
However, a Home Office spokesman said the government "has protected overall police spending in real terms since Spending Review 2015."
Met Commissioner Cressida Dick said she believed the closures "will not impact on our ability" to "keep Londoners safe".