Croydon Tram drivers to strike over 'sleep detectors'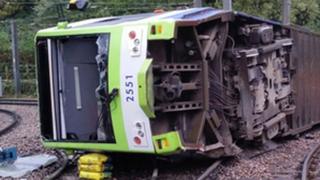 Tram drivers are to stage two 24-hour strikes in a dispute over the introduction of a device to detect if a driver has fallen asleep.
Drivers in Croydon, south London, will walk out on 13 November and 6 December.
The Aslef union says the detector shines a constant infra-red beam on drivers' faces, and has caused headaches and blurred vision.
Transport for London said the device would improve safety following last November's fatal crash in Croydon.
Seven people were killed and 51 injured when a tram overturned after travelling at 46mph as it entered a sharp bend at Sandilands Junction, which had a 13mph limit.
The first of the strikes will take place four days after the first anniversary of the crash on 9 November.
Safer network
Aslef official Finn Brennan said the device, which was rolled out on 23 October, was causing health and safety concerns.
He said: "Drivers have reported symptoms from headaches and dry eyes to blurred vision and potentially serious eye damage as a result of exposure to this device."
Mr Brennan said only an automatic tram protection system could have prevented last year's tragedy.
A Transport for London (TfL) spokesman said: "We urge the union to call off this action and continue to work with First Group, the operator of London trams, on making the network safer for everyone."
The device has been fully safety-tested and certified and has been used without incident for many years in the road haulage industry, TfL said.
Meanwhile, work is under way to install a system to automatically reduce tram speeds if required.
However, that would take time and the safety device, which alerts drivers to fatigue and distraction, was helping to make trams safer now, TfL added.
The new tram protection system is in the early stages of development and TfL was unable to say whether it would replace or work alongside the sleep detection system.