Pentonville Prison death: Jamal Mahmoud 'led street gang'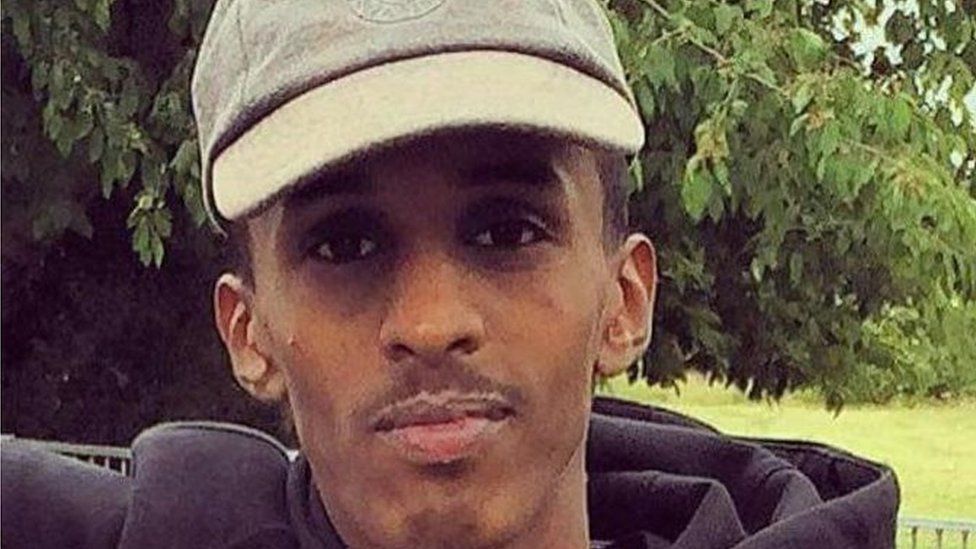 An inmate who was stabbed to death in HMP Pentonville led a major street gang linked to drugs, violence and the death of a 15-year-old boy, a court heard.
Jamal Mahmoud, 21, had taken over a senior role in the Get Money Gang (GMG) in Enfield, north London, from his older brother, the Old Bailey was told.
He was allegedly stabbed to death by three prisoners on 18 October last year in a row over smuggled contraband.
Basana Kimbembi, 35, Joshua Ratner, 27, and Robert Butler, 31, all deny murder.
Police have ranked GMG second on a list of 200 street gangs for their threat.
The gang was believed to be responsible for the majority of drug supply in Enfield, and had branched out to Essex, Hertfordshire, Wales and Scotland.
Four members of the gang were found guilty in 2013 of murdering 15-year-old Negus McClean, who was in Dem Africans (DA) gang.
Mr Mahmoud, who had previously been stabbed and thrown into a canal by the rival gang, was arrested for the murder but never charged.
He had eight convictions for 12 offences, including possession of a knife and robbery.
He was convicted on 15 July 2016 of plotting to transfer prohibited weapons and ammunition after a stash including a Skorpion sub-machine gun and a .45 Colt self loading pistol was found in a shed.
An inspection of Pentonville prison the year the alleged murder identified acute staff shortages, with two thirds of inmates saying they felt unsafe there.
A follow-up visit in January found levels of violence remained too high.
The trial was adjourned until Friday.
Jurors heard the three defendants also had a string of previous convictions:
Mr Kimbembi had nine convictions for 15 offences including possession of a knife and robbery.
The paranoid schizophrenic had attacked a man at an immigration centre after telling him he could not play pool.
While he was Awol from a psychiatric hospital, he went on to commit a cash-in-transit robbery.
Mr Butler had 17 convictions for 36 offences for wounding with intent, dealing in cocaine and heroin and having a knife.
And Mr Ratner had four previous convictions for five crimes, including possession of a firearm and having a knife.
He had just months left to serve at the time of the murder.
Related Internet Links
The BBC is not responsible for the content of external sites.