Anti-abortion protesters 'target MP offices with graphic images'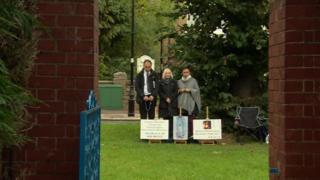 MPs who support pro-choice say anti-abortion protesters have draped graphic images of dismembered foetuses outside their offices.
Labour MP Paula Sherriff described the behaviour of some anti-abortion groups as "reprehensible".
MPs told of the abuse during a parliamentary debate on protests around family planning clinics on Tuesday.
It comes after 57% of parliamentarians supported Ealing Council's decision to stop local anti-abortion protests.
Ms Sheriff added: "Some of these anti-choice protesters have actually taken now to protesting outside MPs offices and bringing very distressing images and are handing out leaflets and such other very alarming literature."
Fellow Labour MP Rupa Huq, who has spoken out against anti-abortion protesters in her own constituency, said a group called Abort 67 had targeted her office in the past.
She said the group "unfolded huge graphic images of dismembered foetuses" outside her office.
An Abort 67 spokesman said: "We can assure Ealing council and Ms Huq that if they are successful in their campaign and remove the current pro-life groups from Mattock Lane, they will be getting us on their high streets in a very, very big way.
"We will do this to show her voters what Rupa Huq is fighting for."
Ms Huq, who is the MP for Ealing Central and Acton, made the comments as she offered support to Ealing Council's decision to stop anti-abortion groups from protesting outside a local clinic.
The authority is exploring options to prevent such demonstrations, including a Public Space Protection Order.
Ms Huq said: "They [the protestors] proposition women on their way in and on their way out with distressing imagery. They've had me seething with rage really since the nineties."
Shadow Home Secretary Diane Abbott accused anti-abortion groups of waging a "guerrilla attack" on the right to choose.
"Many of these groups also oppose contraception, sex education even IVF fertility treatment," she said.
Responding to MPs concerns, Policing Minister Nick Hurd encouraged women targeted with abuse outside clinics to contact the police.
"The fact that they are producing leaflets that they are pushing forward their views to women who are entering these clinics at a moment of extreme emotional vulnerability constitutes harassment whether it is intentional harassment or not."
The Good Counsel Network, which holds vigils outside the Ealing centre, denies harassing women.